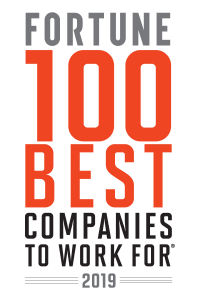 Zillow Group's top priority is to develop a best-in-class culture and team. We have long said that our employees are our greatest asset, and that our culture is a direct reflection of what is important to them – and together they are what creates a great place to work. Which is why we are excited to announce that for the first time, Zillow Group has been named one of Fortune's 100 Best Companies to Work For!
This award is meaningful because it is based largely on anonymous survey results from our employees, who were asked about their experiences working for Zillow Group. A few of the top reasons for our ranking include:
The Work We Do:

Our work affects one of the biggest decisions a person can make – the place they will call 'home.' We collaborate in small teams to tackle big ideas to give everybody a chance to impact what we do and how we do it. We believe that ideas come from all levels and encourage our employees to speak up and offer solutions. 

We Show Our Employees We Care:

Our benefits package reflects what's most important to our employees and their families. Our commitment is to provide them with benefits that are both competitive and comprehensive with a primary focus on encouraging work-life balance by addressing all areas of an employee's life.

Our benefits package includes 100% employee premiums paid for medical, dental, and eye care, sabbatical after six years of continued work, 401K matching, pet insurance, our Equity Choice program allows employees to tailor their equity-based compensation to fit their needs, and generous time off. We also offer outstanding parental benefits like free breast milk shipping for mothers traveling on business, infertility treatment, 16 weeks paid maternity leave and eight weeks paid parental leave for non-delivering parents, $10,000 towards expenses related to an adoption, back-up childcare, $1,000 'Baby Bucks' for new parents (including adoptive and foster parents), and more.

Our Commitment to Equity & Belonging:

At Zillow Group, we have a dedicated team whose focus is to lead the company to a more equitable and inclusive environment through various initiatives called "Core Pathways." Through employee participation in our Core Pathways, we are able to impact an environment where employees feel they can belong, thrive and create the best work of their careers. Pathways include eight employee-led Affinity Networks (or Employee Resource Groups); Community Conversations with external speakers who cover topics like social impact, philanthropy, Equity and Belonging, and current events; and offer Unconscious Bias training to help employees learn specific actions they can take to manage bias to make better, more objective decisions.

Learning and Career Development Opportunities:

Our Learning & Development team empowers employees to increase their knowledge, build their skills, and own their careers. Our internal mobility team helps employees find new opportunities at the company, Insights Training provides a chance for employees to learn more about workplace relationships, and Careers Onstage gives employees an opportunity to learn about colleagues' career paths and how it might inspire their own. Our Learning & Development team also created our Leadership Playbook to provide common language around what it means to be a leader at Zillow Group.
We are so proud of this award and of our employees who work hard every day to create our award-winning culture.
Interested in working at Zillow Group? Check out our current job openings on our Careers Site and get a behind-the-scenes look at what it's like to work at Zillow Group on Instagram @zillowgrouplife