Searching for a home in a hot market or neighborhood? In today's world, minutes can matter. Now Zillow's Instant Saved Search is helping home shoppers be among the first to know about new listings and price drops on homes in the neighborhoods they are most interested in.
It's easy to sign up.
First, go to the search and maps page on Zillow and type in the city and state, or ZIP code of your desired search.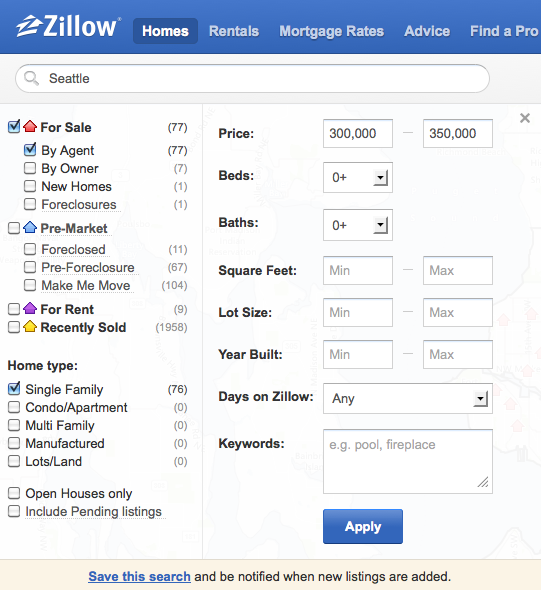 In the example above we're searching for single-family homes for sale in Seattle between $300,000 and $350,000. Once you have the search you want, click "Save this search" at the bottom of the screen.
A box will appear for you to enter your email address (below) and choose whether you prefer to receive your updates instantly or daily.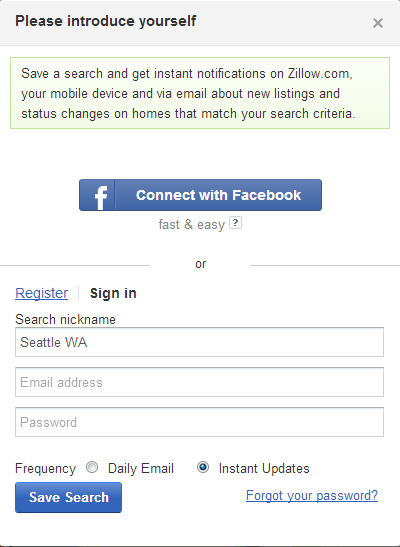 If you already have Saved Searches in Zillow, turning on instant email notifications is simple. Just sign into Zillow.com, select "My Zillow" and click on "Saved Searches" in the drop-down menu: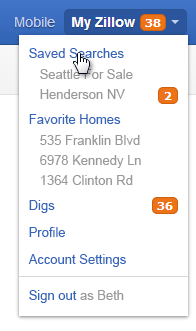 Then, select "Instant" as your email frequency:

Then, sit back and watch your instant updates roll in! Any time there is a new listing or a price cut on a listing that meets your search criteria, you'll get an instant email that look like this: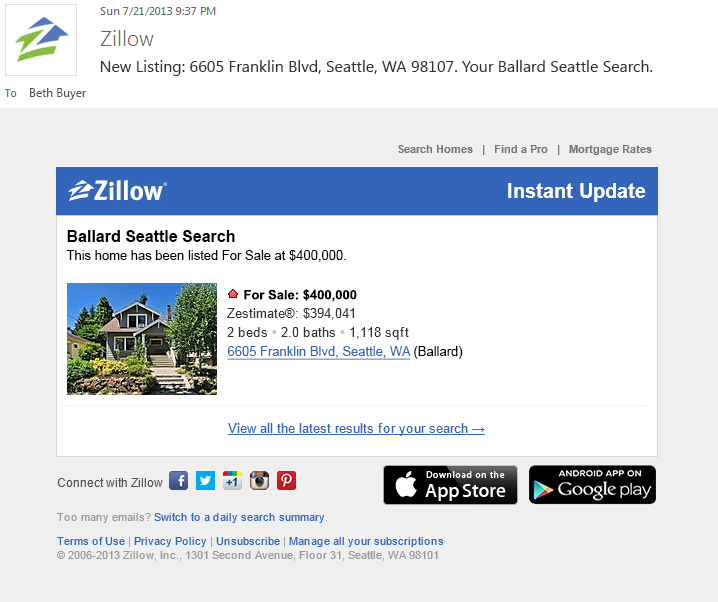 Worried about too much email? Zillow will only send a maximum of 15 emails for each of your Instant Saved Searches per day. If more than 15 new listings or price cuts meet your search criteria in one 24-hour period, we'll combine the rest into one email and send it to you at the end of the day. Notifications that are not new listings or price cuts (such as open houses, new Make Me Move® listings, status changes to pending, etc.) will be sent in one daily email per Saved Search. Of course, you will always have the option to turn off Instant Saved Search email updates at any time.
Give it a try — sign up for your Zillow Instant Saved Search today!