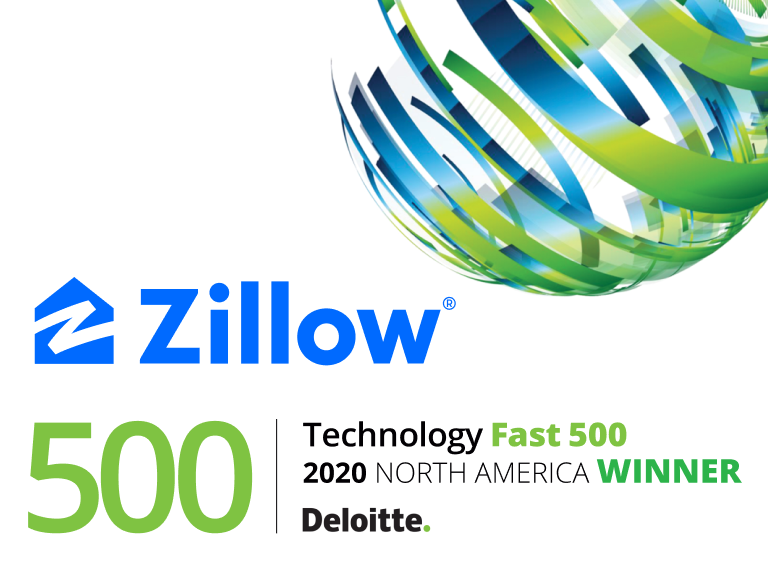 Zillow has been driving growth by rewiring real estate transactions to make it easier for customers to buy, sell, rent and borrow, so they can unlock the next chapter in their lives. We're happy to share that Zillow now ranks on Deloitte's Technology Fast 500™ for exceptional revenue growth, alongside private startups.
"The Deloitte ranking is more proof that the team at Zillow is doing truly transformative work in the real estate industry, which is overdue for a technological overhaul," says Zillow co-founder and CEO Rich Barton. "Zillow has the energy and the huge opportunity of a startup, but with the deep resources and experienced team of an established brand."
Strategic leadership for rapid growth and scale
Deloitte Technology Fast 500 award winners for 2020 — across tech, media, telecom, life sciences and energy industries — are selected based on percentage fiscal year revenue growth during the period from 2016 to 2019. Revenue for Zillow grew by 224% from 2016 to 2019, remarkable for a publicly-traded company with more than 5,300 employees.
Several strategic leadership decisions set Zillow up for success:
In February 2019, Zillow co-founder Rich Barton returned as CEO of Zillow Group to contribute his expertise in founding and advising successful companies, including Expedia and Glassdoor, to lead the company's big swing to reinvent the entire real estate transaction.
Zillow hired Chief Financial Officer Allen Parker in November 2018, a longtime Amazon veteran who brought significant financial leadership experience and a proven track record of building operational excellence at scale in large, high-growth environments.
Arik Prawer, President of Zillow's Homes division, is a pioneer in the institutional single-family rental industry who came to Zillow in February 2018 to expand its home-buying program, Zillow Offer. Prawar brought with him a team that has deep experience buying, renovating and managing homes at massive scale.
Employees realize benefits of growth at scale
Zillow's revenue continues to rise. The company's financial performance has met or exceeded our expectations for the first three quarters of 2020, with the ZG stock price rising 133% from the beginning of 2020. Zillow continues to scale, with nearly 200 jobs now open across several lines of business including Zillow Home Loans, Zillow Closing Services, Premier Agent and Zillow Rentals.
Principal Product Designer Tricia Sakai is on the frontlines of rewiring the real estate transaction, designing the system and strategy to make closing on a home sale or purchase a fully-digital, transparent transaction. "It feels like we're working at a startup within a really established, well-supported company," she says.
Sakai is an entrepreneur who years ago founded her own startup, a pre-Facebook baby picture sharing service. "I had to do everything on my own, but at Zillow we have amazing teams of people who are at the ready to turn the 'black box' of closing on a home into something everyone can understand. I'm glad I'm here at this moment," she says. "It was meant to be."
You can read more about the 2020 Technology Fast 500 and view the full list on Deloitte's Fast 500 program page
Visit our careers page to find out about current opportunities.
Related: Culture of innovation and belonging lands Zillow on Fortune's Best Workplace for Millennials list