About Us
Our Brands & Businesses
Zillow Group's foundation of trust is powering our next chapter: to build a seamless transaction experience for every customer.
Our Brands & Businesses
In addition to the for-sale and rental listings on Zillow.com, Zillow Home Loans, Zillow's affiliated lender, provides mortgage pre-approvals and financing; Zillow Closing Services, Zillow's affiliated title and escrow provider, offers title and closing services; and Zillow Premier Agent offers support through a trusted network of real estate professionals.
Other consumer brands include Trulia, StreetEasy, and HotPads.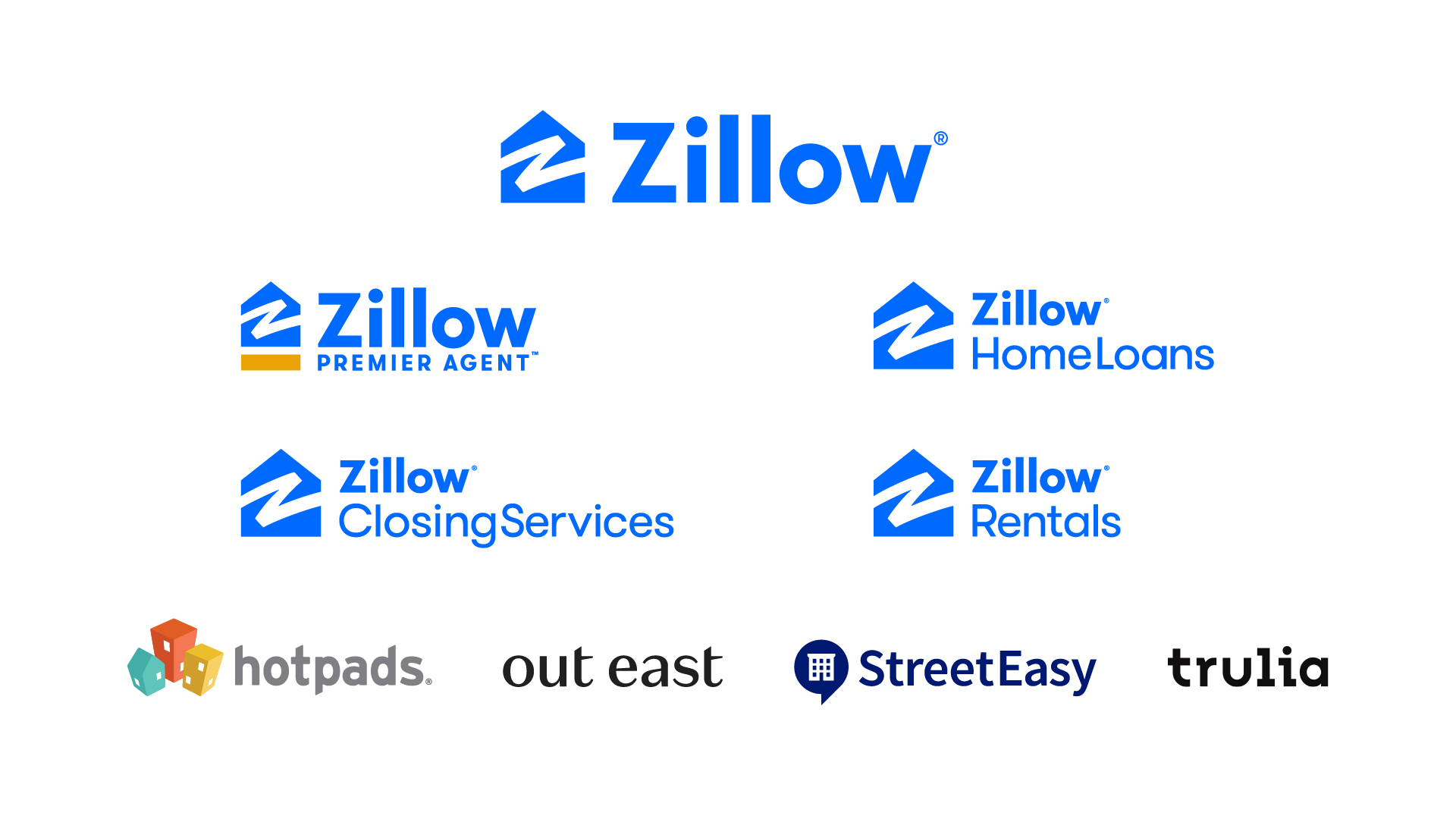 Our Real Estate Software
ShowingTime+ provides products and services to help real estate professionals streamline their businesses and deliver elevated experiences to their customers. The ShowingTime+ technology suite includes ShowingTime, dotloop, Bridge Interactive, and interactive floor plans.

Our Milestones
2005

April 2

Rich Barton and Lloyd Frink begin assembling a team to revolutionize the way people search and shop for homes.

2006

February 8

Zillow launches, attracting more than one million visitors within the first three days, ultimately overloading the servers and crashing the website.

2008

April 3

Zillow launches Mortgage Marketplace, a free and transparent marketplace where borrowers can request anonymous and hassle-free mortgage loan quotes from lenders directly through Zillow.

2009

March 3

As mortgage rates reach historic lows, Zillow's Mortgage Marketplace takes off, receiving more than 700,000 loan information requests within three months.

April 29

Zillow launches the Zillow iPhone app with dynamic map technologies, bringing data on 88 million homes directly into users' hands.

December 15

Zillow adds rental listings to its database, which now includes more than 90 million homes. Buyers, sellers and renters can now search both rental homes and homes for sale on Zillow.

2010

April 2

Zillow launches the iPad app, with an innovative photo-driven home shopping experience built specifically for the iPad's multi-touch user interface.

September 19

Zillow's first CEO, Rich Barton, becomes executive chairman of the board, and Spencer Rascoff becomes CEO of Zillow.

2011

January 13

Zillow launches agent ratings and reviews, giving home buyers and sellers the ability to search for and find local real estate agents based on reviews from former clients.

July 19

Zillow becomes a public company, trading on NASDAQ under the ticker symbol "Z."

2012

November 12

Zillow acquires HotPads, expanding the size of its growing rental audience and extending the reach of its marketing tools and productivity solutions for rental professionals.

2013

August 28

Zillow acquires StreetEasy, New York City's leading real estate marketplace.

2014

December 10

Zillow CEO Spencer Rascoff and Chief Economist Stan Humphries publish the book "Zillow Talk: The New Rules of Real Estate."

2015

February 18

Zillow acquires Trulia and announces the formation of Zillow Group, a portfolio of the largest real estate and home-related brands.

May 24

Zillow launches a $1 million Zestimate competition for data scientists, the largest prize pool ever to be awarded in a machine learning competition.

October 26

Zillow Group pledges $5 million in cash and in-kind contributions to address housing insecurity as part of the company's first social impact program.

October 16

Zillow begins to add Canadian listings to its mobile app and website.

October 31

Zillow Group acquires Mortgage Lenders of America, making it possible to finance a home directly through Zillow's new affiliated mortgage lender.

2019

January 30

After nearly two years of competition among more than 3,800 teams of data scientists from 91 countries, Zillow awards the $1 million Zillow Prize in the contest to improve the accuracy of the Zestimate.

February 21

Rich Barton returns as CEO of Zillow Group to lead the company's work to transform how people move; Lloyd Frink is named Executive Chairman.

April 2

Zillow renames its affiliated lender Zillow Home Loans, allowing home shoppers the opportunity to get financing directly from a Zillow affiliate.

April 22

Zillow launches AI-powered 3D Home Tours across the U.S. and Canada, giving millions of home buyers and sellers access to immersive virtual home tours.

August 20

Zillow announces partnerships with over 250 Canadian brokerages and franchisors to display listings on Zillow.com and the Zillow mobile app.

August 22

Zillow Group releases its inaugural Sustainability Report detailing the company's commitment to environmental, social impact and governance practices.

June 23

Zillow expands fair housing advocacy, adding information about local legal protections for LGBT people to listings.

Fall

Zillow joins the National Association of Realtors, integrating listings from MLS databases nationwide into Zillow.com.

October 21

Zillow Group formally moves to a "distributed workforce" model that enables employees to work remotely.

2021

January 22

Zillow expands fair housing advocacy, adding information about local legal protections for source of income to rental listings