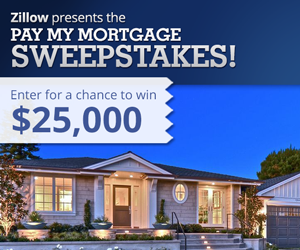 Zillow and the Top Rated Lenders on Zillow Mortgage Marketplace have teamed up to help you pay your mortgage this year. For the month of July, enter to win $25,000 cash in Zillow's "Pay My Mortgage Sweepstakes." Imagine what you would do if you didn't have to pay your mortgage bill for a while!
Entering for a chance to win is easy
Step 1: Visit Zillow's Facebook page (www.facebook.com/Zillow) and "Like" Zillow. Then complete the entry form for your chance to win. Already "Like" Zillow on Facebook? No problem. Existing members of Zillow's Facebook community are eligible to enter the sweepstakes.
Step 2: Double your chances of winning instantly by clicking the link on the entry confirmation page to download the Zillow Mortgage Marketplace mobile app.
Get started now
Hurry! Zillow's "Pay My Mortgage Sweepstakes" ends July 29, 2013. Visit Zillow's Facebook and enter today!