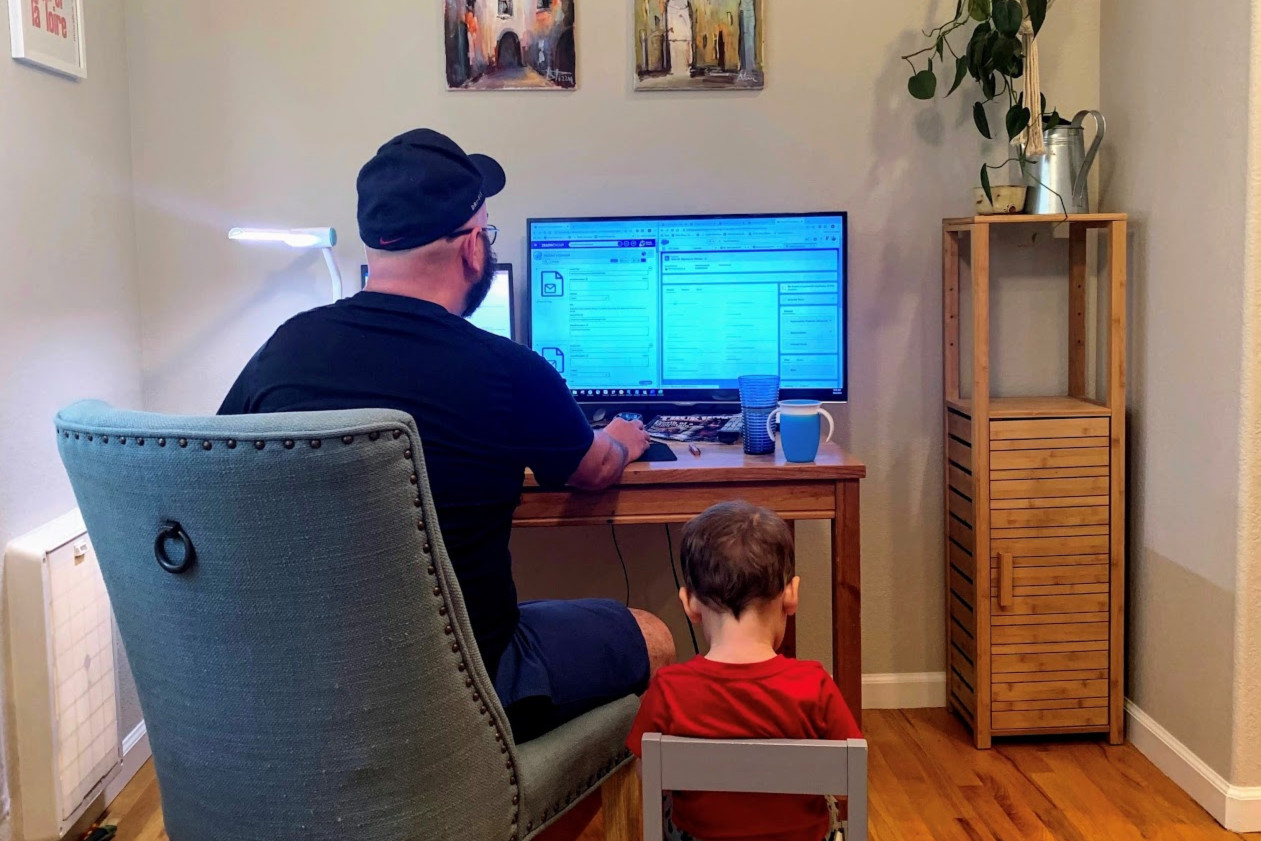 Working mothers have taken more time off during the COVID-19 pandemic for childcare than have fathers, according to a recent survey by the U.S. Census. One insight from the survey: Among parents ages 25-44, mothers said they were not working because of childcare responsibilities at almost three times the rate of fathers (34% for mothers compared to 12% for fathers).
For corporations, the challenge is how to support working mothers so that the pandemic does not limit their productivity or careers. Zillow's solution: Provide COVID-19 caregiver leave for all employees, regardless of gender or parental status. We talked to three fathers at Zillow about how they've tapped into the company's COVID-19 caregiver options.
Dad's home alone with kids
Greg Agee is an Android developer on the Zillow Premier Agent product team. He's raising two boys, ages 9 months and almost 3 years, with his wife, who is an essential worker with a variable, on-call schedule. Agee remembers last spring, when daycare was closed and his wife went to work at her lab.
"It was crazy in this house," he says. "The boys can be really adorable and funny, and then they have their tantrums and the baby's crying and it's like, 'What do I do?'"
One thing Agee didn't have to do when home alone with his kids — then or now — is stay continually online for work. Early on in the pandemic, Zillow rolled out new options that give caregivers the flexibility they need to support their families during this time.
"The duration of the pandemic is really, really hard on parents, with stress and worries we couldn't imagine at the beginning of the year," says Dan Spaulding, Zillow's Chief People Officer. "That's why we have a range of caregiver assistance programs to support parents with children and people who care for family members."
Among Zillow's benefits for working parents:
Flexibility with work schedules. Managers and employees can develop a detailed plan that works for caregiving and balances workloads across teams.
Backup daycare with partner Bright Horizons. Employees can access up to 15 days of paid childcare in their home or at a clean and safe facility.
Paid time off for caregivers who have exhausted other options. This includes up to two weeks of leave that can be used intermittently. Another option is the ability to shift to part-time work for up to three months at a reduced salary but with no impact to health benefits.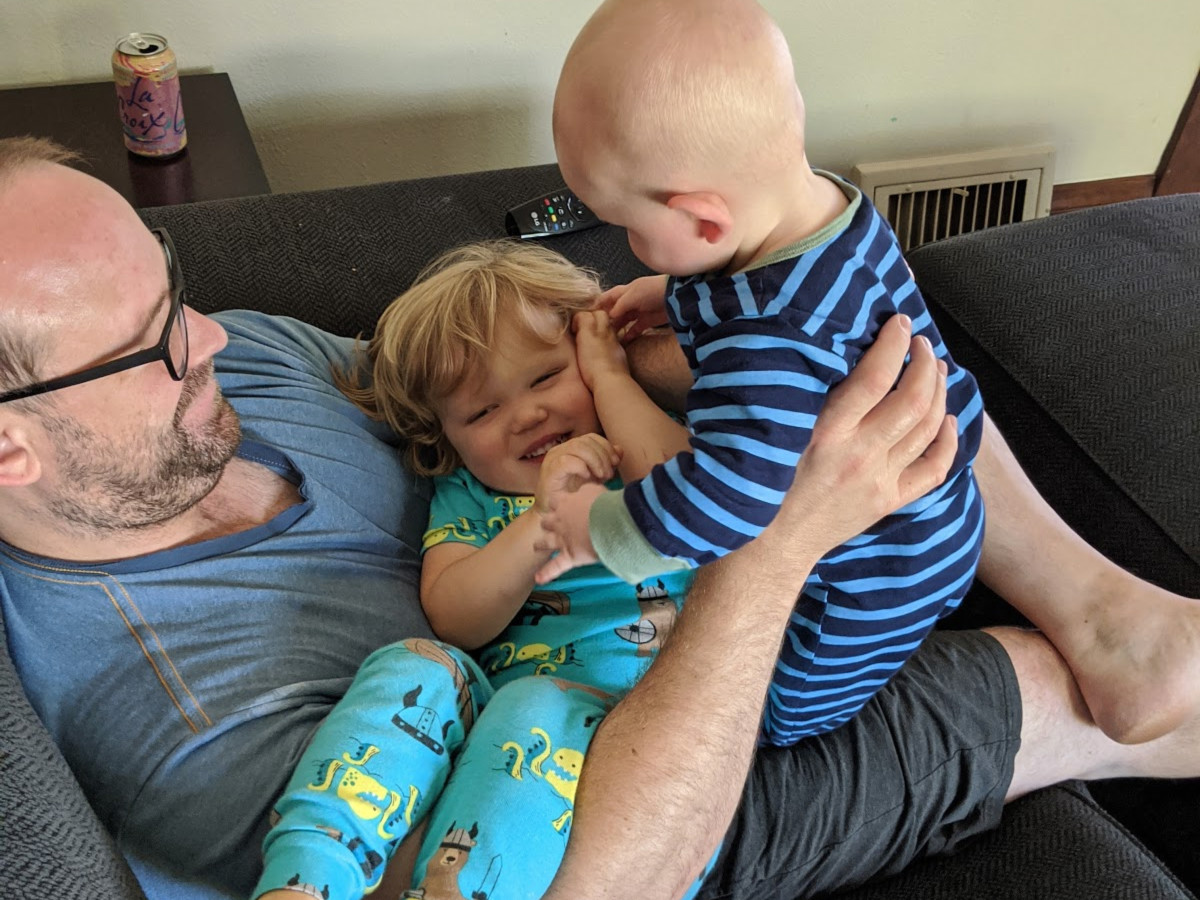 "We have DTO and these COVID relief policies because the company wants employees to use them, and makes sure we know about them"

Greg Agee
Working with his manager and HR business partner, Agee took a combination of discretionary time off (DTO) and two weeks paid COVID-19 caregiver leave to manage daycare gaps in the spring. He doesn't feel guilty or uncomfortable asking for the time. "We have DTO and these COVID relief policies because the company wants employees to use them, and makes sure we know about them." Agee says the additional benefits give his wife the reassurance that she can go to work without having to strike that tricky balance of scheduling time-sensitive work with using some of her limited time off.
More than flexibility
Kyle Erdman is one of the frontline managers who makes sure his team knows about options to support their families during the pandemic. "I say 'it's OK to be a parent first, don't apologize for it,'" he says. "That was part of Zillow culture even before the pandemic."
Erdman leads a team of sales executives who create partnerships with new construction builders. They have monthly goals to meet. Erdman says "flexibility" is the keyword underlying Zillow's COVID-19 caregiver policies, but "it's really about mutual understanding and respect," between managers and employees.
"If my team is counting on me to do something, I'm going to do it, and I also know my team's going to be there to support me." The proof is in the numbers; Erdman says his team is currently surpassing sales expectations on a monthly and quarterly basis, despite COVID.
Intangible impact
Zillow's COVID-19 caregiver options build on longstanding efforts to give all parents paid time off to balance family life with work. It's the main reason regional sales executive Michael Gunaca gives for why he left a startup to work at Zillow. As a new father, he got eight weeks of paid parental leave to bond with his son. Delivering parents get an additional 16 weeks of leave. "I'd never heard of anything like that in my ten-plus years in corporate America," he says.
Gunaca's son is now two years old, at home all day with mom and dad, who both work full-time from home. "He attaches to my wife like a lemming," Gunaca says.
One day, Gunaca's frustration level was so high "because of the intensity of what was happening at home," he called his manager, Kyle Erdman, and said, "I need to take next week off to take my son to the woods so my wife can get some work done."
Erdman and Gunaca agreed on a timeframe that worked for the team. Gunaca's monthly sales goals did not change, but he took his son camping at Yellowstone, 600 miles north of their home in Castle Rock, Colorado. His wife Susie told him Zillow's caregiver leave gives her time she needs to devote to her job: "When Mike can focus on our son, I experience renewed energy, focus and success with my work."
Based on his experience as a Zillow dad, Gunaca says it would be hard for another company to recruit him away: "At Zillow, you feel like you can put your family first and not fear for your employment. That's something that's an intangible, something hard to reproduce in Corporate America."