Buying a home or looking to refinance? Zillow's new Mortgage Education Center has more than 45 articles on relevant mortgage topics — from the basics of borrowing to underwater refinancing and loan products. The site also provides access to helpful tools including Zillow's calculators to budget for a home and Zillow Mortgage Marketplace to shop for rates.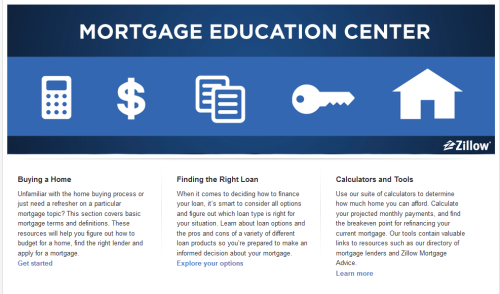 Whether buying for the first time or looking for specialty mortgage information, the Buying a Home section covers mortgage terms and definitions, how to find the right lender and how to apply for a mortgage. Here are a few commonly asked questions answered on this page:
When it comes to deciding how to finance your loan, the Mortgage Education Center can help you consider all of your options. The Finding the Right Loan section covers the pros and cons of various loan products, so you can make an informed decision about your mortgage. Here's a look at some of the topics covered:
Ready to dive in? You can find the Mortgage Education Center under the Mortgage Rates tab on Zillow.com, or by clicking here.