Brandi Galindo-Cherry is a source acquisition coordinator, data services based in Cypress, California. She is president of the Billow affinity network, for Zillow employees of Black and African descent and their allies.
My birthday is June 19th, and for as long as I can remember, my mother always said that I was a Juneteenth baby. So not only does it mean freedom, it actually means my birth — the day I came into this world. We've always had a celebration. My family, we are very close, so we've always had dinners. We sit around, we talk. We talk about our childhoods. We talk about the past. My grandmother would tell us about her growing up. And when I was younger, my great grandmother would tell us about how it was for her growing up in Oklahoma on a reservation.
The 4th of July, although that's America's freedom, June 19th is OUR freedom, the day that marked our freedom. This is a different time, and it feels different and it gives me hope. I hope that our allies are true allies, in it for the long run, not just for the moment. They're not just saying "Black Lives Matter" because it's trending; they're saying that because they really believe that. They're saying that because they want to hold that true. They're saying that because, when they see an injustice against a Black person, they're going to call it out. They're saying that because they're going to recognize their privilege, and they will use that privilege to help.
I have the honor of leading the (Billow) network through these historic times. And I have been supported by members, by senior leadership, by my own coworkers, by just being given the opportunity to talk about my feelings, being given the opportunity to create new policies, by putting everything, all of our support into practice both internally and externally. I'm even being supported by the other networks reaching out, sometimes on a daily basis, just asking how I'm doing. And one day I can be fine, and, even within the next hour, something can happen and I just get upset or I start crying. Like one of our leadership members said, we're grieving. So if you've ever lost someone close to you, you have good days and you have bad days. And that's how this is.
I hope the people who truly support the Black community are in this for the long haul, because we are tired, and we are ready for a change.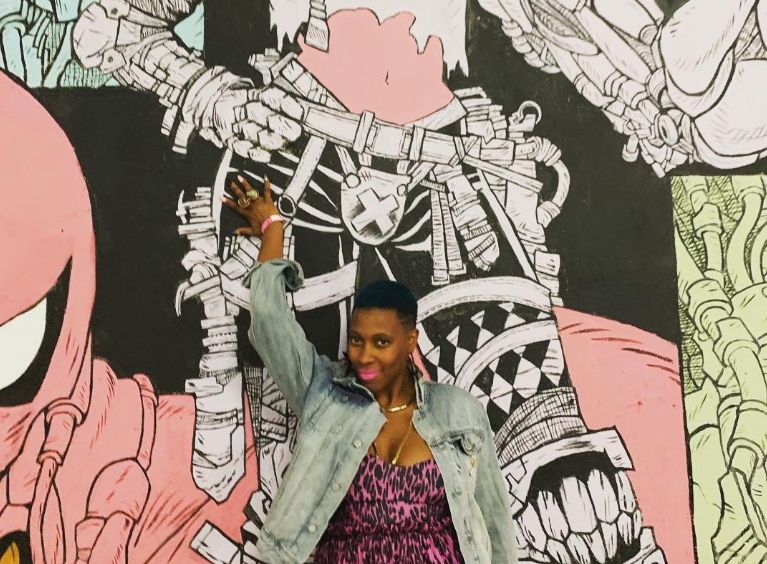 Imani Sims is senior community and culture specialist for Zillow, based in Emeryville, California.
Juneteenth is about remembering. There's an Adinkra symbol called Sankofa. It's basically a bird, a goose specifically, with its feet facing forward and its head turned back holding a golden egg. And it's a symbol of remembrance, knowing how to remember where you came from and still move forward.
I think Juneteenth is about that moment. It's about remembering that there were folks and still are folks, ancestors, who are fighting for us as we fight on the ground, as we move towards change. In the past, Juneteenth has been a lot of me just hanging out with people that I love, hanging out with other Black folks who know that this is a moment to remember. And there's more work to do. So we spend time hanging out together, having conversations over food. That's one of my favorite things to do on this day.
This year, I think Juneteenth has a really significant role in the Black Lives Matter movement. I think it will be a day to celebrate. I think it will be a day for Black folks to be joyous. I think it's been really difficult as a Black person, personally, to remain joyous. And I think Juneteenth this year will be a great way to remember how to be joyous.
I am hopeful, because the movement and the momentum is still going. I am hopeful because there are many people who have asked, "what can I do? How do we move this conversation forward?" I'm hopeful because there are streets with block-long monuments to the Black Lives Matter movement. I'm hopeful because this go-round feels different. This momentum, this tension, feels different. And I look forward to what comes next.
Shatara Hardaway is assistant general manager of Zillow Offers, based in Nashville, Tennessee.
Juneteenth, to me, it's about giving yourself space to celebrate. I think about the story of Juneteenth and how Union soldiers came into Texas and told the last group of enslaved people they were free. The story says that they were met with dismay, but then it was joy. And I think that story says they all knew that there was a long way to go. It wasn't going to be perfect from day one just with a proclamation. But they gave themselves a moment to celebrate where they were. And to me, Juneteenth means finding and giving space to celebrate the accomplishments, the achievements that we've managed to get to at this point.
In the past, I've always celebrated with service, gotten friends and family together just to congregate and have a conversation. Juneteenth has always been important and pivotal, and to me, it will always be a day to celebrate how far we've come.
What gives me hope in this moment is seeing the conversation, seeing my mom and her neighbors, who are white, have conversations about literature and their experiences, hearing people be vulnerable about the fact that there's so much going on in the world they weren't aware of, and really taking responsibility for the fact that they don't know much about the Black experience, and seeing people really want to learn and want to grow. I think that is how we start.
I think the way we get to a brighter future is we have those hard conversations, we don't back down from them, and we really bridge the gap of knowledge and understanding. Seeing so many people willing to do that, get outside of their comfort zones and have those conversations, is heartening. The awareness and the willingness to learn is really what gives me hope right now.