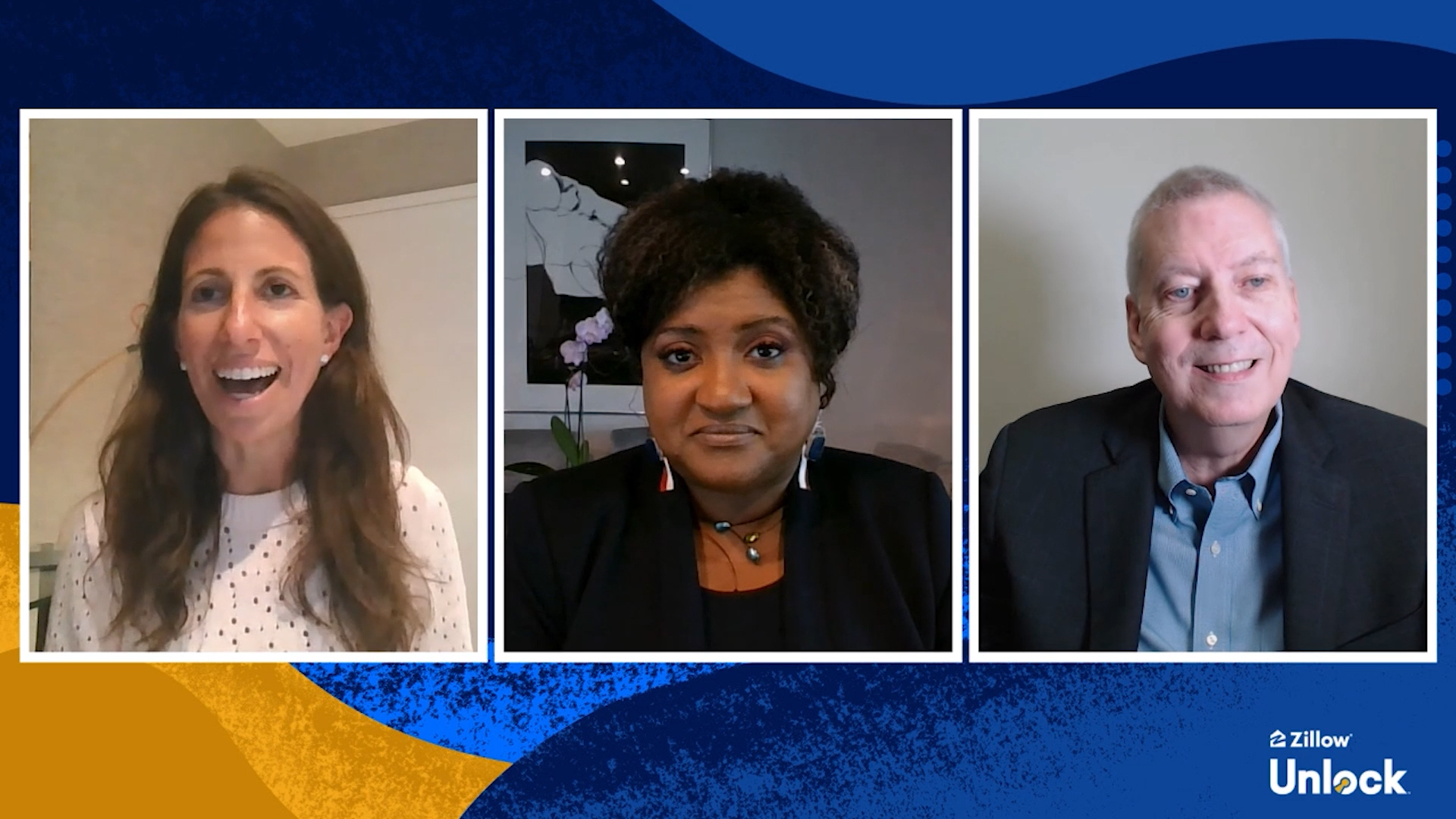 The American housing experience is deeply unequal. The Black and white homeownership gap remains as wide today as it was a century ago: Nearly 74% of white households own their homes, compared with just 44% of Black households. And this year's pandemic is expected to have a long-term, disproportionate toll on Black households.
Susan Daimler, vice president of Zillow Premier Agent, spoke with Lisa Rice, president and CEO of the National Fair Housing Alliance and investigative journalist Bill Dedman of Long Island New York's Newsday to break down how racism is embedded in real estate practices, and what the real estate industry can do to overcome these disparities.
Their discussion was part of Zillow Unlock, a virtual industry conference. This Q&A is excerpts from the discussion, edited for clarity.
Susan Daimler: There are fair housing laws that are supposed to eliminate housing discrimination. How are they working?
Lisa Rice, NFHA: Fair housing is really a concept that says that everyone should have freedom of housing choice without limitations based on the things that define us, like our race, our national origin, our disability status or even whether or not we have children.
Unfortunately, we have a long way to go to achieving fair housing in America. The country has a really long history of housing discrimination that has led to residential segregation, which is really the bedrock of inequality in America. There are over 4 million instances of housing discrimination that occur each year. My organization's job is really to get that number down to zero.
African-American and Latinos were "steered"— not given the same level of information as their white counterparts.

Lisa Rice, NFHA
Susan Daimler: Newsday has done some incredible reporting in this space. Bill, tell us the most common incidences of racism and discrimination that you see in real estate.
Bill Dedman, Newsday: The violations we saw in our investigation came not just in what the real estate agents said, but more in what the agents did. We had mostly white communities (in Long Island, New York) where nearly all of the listings sent by agents to the buyers were sent to white buyers. We had minority communities where no one got listings. These are the communities where most of the African Americans on Long Island live, and the agents steered around those communities for all the home buyers.
And along with that, there were refusals to serve. That usually involved pre-approval for a mortgage, the, "sorry, can't help you without that pre-approval" response. But those same agents helped white buyers who also didn't have the preapproval. So more financial scrutiny.
Susan Daimler: This isn't the first time fair housing violations like this have been documented, right, Lisa?
Lisa Rice: Exactly. About a decade ago, the National Fair Housing Alliance conducted a multi-city, multi-year investigation into real estate sales. And everything that Bill mentioned is what we found in our investigation. What really struck me was how little we had progressed in that 10-year timeframe. We found the same kinds of things that Bill found: African-Americans and Latinos were not called back by real estate agents, African-American and Latinos were "steered"— not given the same level of information as their white counterparts. They had to meet higher thresholds just to get shown a house.
It may be simple, but the way to stop steering is to stop steering. Treat everybody the same.

Bill Dedman, Newsday
Susan Daimler: Let's turn our attention to how we make it better. How do we stamp out unintentional and intentional steering?
Bill Dedman: One of the attorneys in our documentary said, "This is not such a high burden to ask, to treat everyone equally." So it may be simple, but the way to stop steering is to stop steering. Treat everybody the same. Give everybody all the homes that fit their criteria.
What comes next is better training. We found the classes required in New York we're very thin on fair housing context. Some of the large real estate companies have talked about doing their own field tests for internal purposes, sending out people to evaluate their own agents.
I would encourage people operating real estate companies and offices to put less emphasis on the provocative, impossible to answer question, "Who has bias in their heart? Who thinks in some sort of a racist manner?" Put more of your attention on, "How do we treat everybody the same?"
Read more about how Zillow supports efforts to ensure equitable housing for all and visit our fair housing FAQ.