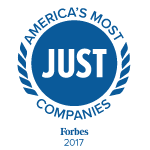 Zillow Group is pleased to announce that we have been named one of America's Most JUST companies by Forbes and JUST Capital, a nonprofit that ranks the largest publicly traded corporations in the U.S. on issues Americans care about most. Companies selected for the list are recognized for outperforming their peers on criteria like worker pay and treatment, healthy products and communities, and job creation, among other characteristics.
As a company who helps millions of consumers find their future homes, we are honored to be included on this list as it is based on a survey taken by nearly 10,000 Americans. As Forbes editor Randall Lane said, "at a time when corporate America, as a whole, faces low public approval, the companies in the JUST 100 provide an example for their peers on how to win back the trust of the American people."
According to the Forbes editorial on Zillow Group, we are "…among the youngest companies to break into the top 100 thanks to strong marks in customer and worker treatment, as well as the effect the company has on the number of jobs in the United States." A few examples of our efforts, include:
Culture: We are a community. We care about one another and encourage each other to be successful. We listen to, debate with, and support one another as we tackle complex challenges and explore uncharted territory. Our employees are our greatest assets. Like Zillow Group CEO Spencer Rascoff noted in the Forbes editorial, our "…intellectual capital is its people."
Equity & Belonging: We believe all people should live in a world where they are valued, supported, and belong – just the way they are. Embracing a diverse workforce, both in background and thought, not only enhances our workplace culture, but is key to our success.
Pay Equity: We are committed to equal pay for equal work and experience, and invest significant resources to ensure women and men are paid equally. On average, women at Zillow Group earn $1.01 for every dollar a man makes in a comparable role with comparable experience.
Work-Life Balance: Our commitment is to provide employees with a benefits program that is competitive and comprehensive with a primary focus on encouraging work-life balance by addressing all areas of an employee's life – health, family, time off, growth, retirement, and community involvement. As Spencer said in the Forbes editorial, "…he is less interested in perks than in helping a wide array of workers, treating employees like adults and improving life beyond the office." Ultimately, we tailor our benefits and perks to fit employees needs during the work day – not to keep them in the office.
Interested in working for an award-winning company? We are hiring! Check out current job posting here.