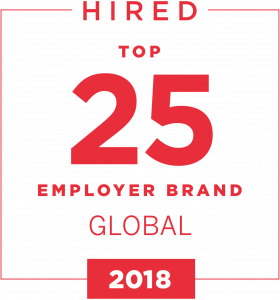 We are excited to announce that Zillow Group has been selected as a top global employer in Hired's second annual Brand Health Report. The ranking is special because it is based on feedback from Hired's tech talent users, who were asked to rank the companies they'd most like to work for. According to the report, top factors job seekers consider when applying for a new job include:
Compensation: We offer competitive compensation, a 4% employer-match 401k plan, as well as equity rewards. We also do rigorous gender compensation analysis every year to ensure employees doing substantially similar work receive equitable compensation. Our latest findings showed that on average, women at our company earn $1.01 for every dollar a man makes in a comparable role.
Benefits: We tailor our benefits to fit employees needs during the work day – not to keep them in the office. We are committed to creating a workplace that is compatible with having a family and social life by offering such benefits as free breast milk shipping for nursing mothers traveling for business, gym reimbursement, generous time off, Sabbatical, fully paid maternity and parental leave, 100% of employee premiums for medical, prescriptions, vision and dental coverage, adoption assistance, and pet insurance.
Company Culture: Our employees are our greatest assets. We work hard to build and maintain a culture where everyone can feel like they belong and has the support and resources to create the best work of their career. We own our work, we are transparent in communication, we work together as a team, we move fast and think big, we act with integrity, and celebrate the successes along the way.
Opportunity to Learn New Skills: We empower our employees to increase their knowledge and skills by offering classes through Lynda.com. We provide employees with career development workshops and provide opportunities to learn about the career paths of fellow employees.
Challenging Technical Problems to Solve: Everyone needs a place to live and our employees work on projects and programs in our effort to build the largest, most trusted and vibrant home-related marketplaces. And we believe that to solve these challenging problems, ideas don't just come from the top – they come from everywhere and from everyone.
Sound like a place you'd like to work? Join us! Check out current job openings here!