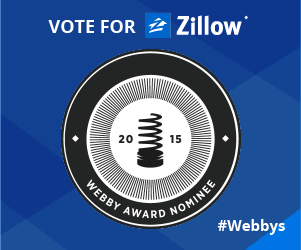 The 19th annual Webby Awards are here, celebrating online excellence in websites, advertising, film, mobile and apps, and social categories. Zillow is honored to be nominated once again in two categories:
At Zillow, we constantly strive to help people understand all stages of homeownership and renting by providing the best data, tools and resources available, so it's always a thrill to be recognized by the Webbys.
We've swept the Real Estate Website category for the past two years, taking home both the Webby and People's Voice awards. We're looking forward to defending our title, and you can help by voting for Zillow and Zillow Real Estate App for iPad using the links above. Voting is open until April 23, and winners will be announced April 27.