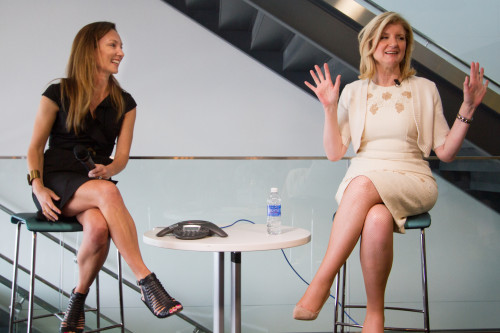 For Arianna Huffington, walking and texting, answering emails in bed and getting four hours of sleep came with the job  — or so she thought.
"I had my own wake-up call when I collapsed from burnout exhaustion and sleep deprivation two years after starting The Huffington Post," she said during a presentation at Zillow about her latest book, "Thrive: The Third Metric to Redefining Success and Creating a Life of Well-Being, Wisdom, and Wonder."
This collapse drove Huffington to start asking questions many stop asking after they finish college: What is success? What is a good life?
"Society tends to define success in terms of money and power," she said, adding that if you must sacrifice your health and well-being to be successful, it's not a bargain worth making.
She recently attended a friend's memorial and was struck by the eulogy and how different it is from how we actually measure our success.
"Have you ever heard anyone say during an eulogy, 'George was amazing. He increased market share by one third?"
The comment drew a big laugh from the Zillow audience and she went on to say eulogies should reflect who we are as human beings: how we make people feel, what made us laugh, small kindnesses, and life-long passions.
At the end of the day, Huffington says it's not enough to be effective and productive.
"I also really want to bring joy into my daily life, and we can do that," she said. "That way, we don't just survive. We don't just succeed. We thrive."
To learn more about Huffington's tips for thriving at work and in life, check out this video:
Want to hear from great guest speakers like Huffington in person? Check out Zillow's job page; we're hiring!
Previous Zillow Speaker Series guests include: