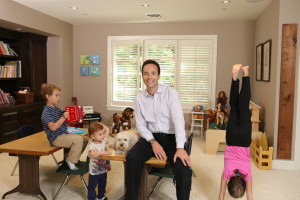 It may seem counter-intuitive, but putting down the smartphone and backing away from email every so often is one of Zillow CEO Spencer Rascoff's secrets to efficiency and success, as he recently told The Wall Street Journal.
Unplugging from email — he gets around 500 each day — at least once a week helps him stay focused on the big picture. Even when he's not checking email, Spencer is thinking about Zillow and the business, he told the WSJ.
Spencer has a few other work rules he lives by. All help him manage his incredible workload, and many have perks for Zillow employees, as well. Here are a few:
Always start meetings on time and end early, if possible.
Manage inbox down to zero every few weeks, and never go to sleep at night with more than 20 emails in the inbox.
Book time for MBWA (management by walking around). Spencer is rarely found at his desk. Instead, he carries his laptop around and sits down next to Zillow employees to check email or work.
Apparently, Spencer's tactics make not only his life better, but the lives of Zillow employees, too. He has a 98 percent approval rating on Glassdoor.