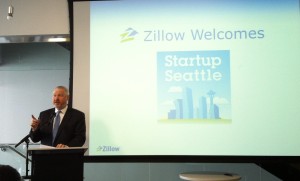 This morning at Zillow, the City of Seattle launched the Startup Seattle initiative to support local technology startup community growth.
Seattle has been a terrific place for Zillow to start and grow our business during the past eight years. We currently employ more than 425 people in our downtown Seattle office, but we started out as a couple of entrepreneurs and an idea. And this is what the Startup Seattle initiative is all about — empowering and supporting new technology companies from the ground up.
Zillow is proud to be part of this announcement not only because our roots are in the startup community, but also because a thriving startup community benefits all of the technology companies in Seattle. A robust startup sector creates opportunities and attracts top talent to Seattle and will elevate this region as a center of excellence for technology companies.
We all will benefit from strengthening the tech startup community in Seattle, and we want to thank Mayor Mike McGinn and the City Council for launching this initiative.
For more information, visit www.startupseattle.com or read the press release.