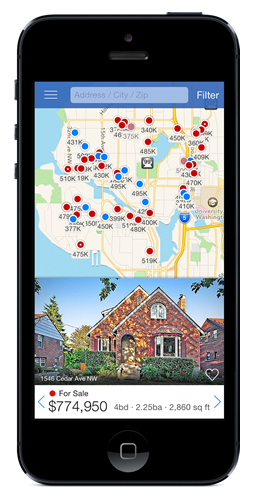 There's no doubt we're a mobile society, and we're certainly seeing that across Zillow. In fact, 2013 was another record year for mobile usage across Zillow's suite of apps and mobile Web. In 2012, we tipped to mobile with more than half of all visits coming via a mobile device. Today, more than 60 percent of Zillow's visits come from a mobile device, and on weekends it tops more than 70 percent.
As we get ready to close out the year, we thought we'd share some of the highlights of Zillow Mobile so far in 2013*:
Home shoppers spent more than 5 billion minutes on Zillow via our apps alone. This averages roughly 16 minutes per person in the U.S., or the total equivalent of 9,500 years.
Home shoppers viewed homes more than 2.5 billion times, up 150 percent year over year. That averages to nearly 80 homes per second.
Nearly 100 million GPS-enabled searches were initiated on Zillow via our mobile apps.
Shoppers submitted more than 4.7 million loan requests through mobile devices via Zillow Mortgage Marketplace, up 72 percent year over year.
We are so proud to be able to offer so many tools and services through our suite of mobile apps – 27 in total! – to help people at any stage of buying and owning a home. Whether you are in the market for a home, rental or mortgage or looking for inspiration for your next home improvement project, we've got an app that can help you find the home of your dreams. And, 'tis the season for new devices – if you've been good and Santa brings you a new smartphone or tablet, don't forget to download your favorite Zillow apps!
We're expecting 2014 to be another stellar year, and we'll keep you up to speed as we roll out new features and services for home shopping on the go.
*From January to November 2013