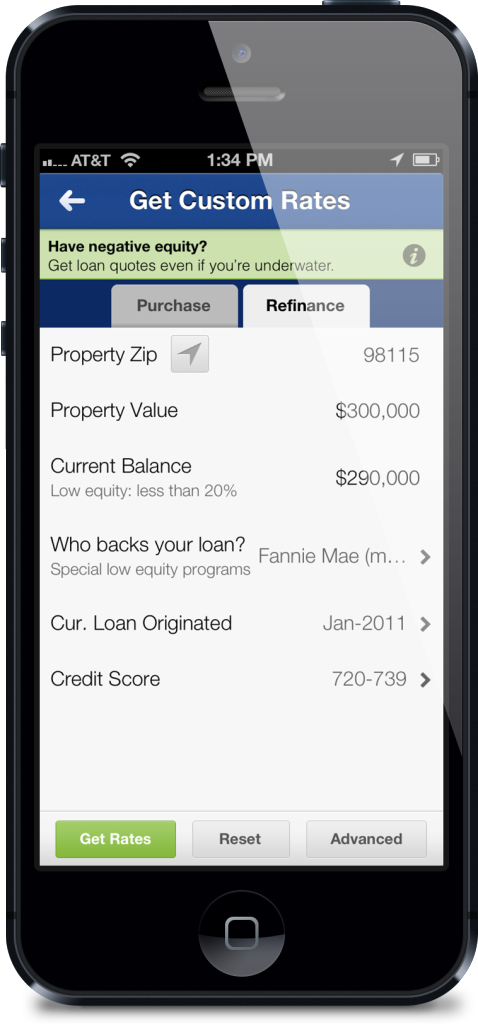 While housing reports continue to flood the news with stories of a brisk recovery, more than one-quarter of homeowners with mortgages are still in negative equity. Government-backed programs, namely the Home Affordable Refinance Program (HARP) and FHA Streamline Refinance, help underwater homeowners — those who owe more on their mortgages than their homes are worth — take advantage of today's low interest rates. But many have found it both time consuming and challenging to find a lender who is quoting these programs or find a lender with affordable fees associated with these refinance quotes.
That's why today, we're excited to announce that Zillow's popular Zillow Mortgage Marketplace app for iPhone and iPad will now enable underwater homeowners to instantly connect with lenders who are quoting HARP and FHA Streamline Refinance loans. The Zillow Mortgage Marketplace app is the first and only mobile app to provide underwater homeowners with easy access to a marketplace of loan quotes for these underwater refinancing programs. And, the advantage of the mobile marketplace environment is that there are hundreds of competing lenders who may be able to help, within seconds, in the palms of these homeowners' hands.
This update additionally unveils enhancements to the app's look and tools to make the loan shopping process even better, including:
A new home screen designed to help home loan shoppers find what they need in an instant and access the breadth of Zillow's mortgage information in just one tap.
An enhanced navigation bar that travels with shoppers as they scroll, allowing easy access to details on rate history, sharing or retrieving rate quotes. The updated app also uses color-coding to allow shoppers to easily identify quotes they have already reviewed.
Expanded lender profiles that allow shoppers to view and scroll through more than 33,000 lender reviews quickly and easily.
Redesigned calculators that now include interactive charts and graphs to help make it simple for home shoppers and owners to find the best loan for them.
A dedicated mortgage and financing app, Zillow Mortgage Marketplace first came to mobile in 2011 and has since seen nearly 17 million people utilize its mobile mortgage calculators. Now available on iPhone, iPad and Android devices, the Zillow Mortgage Marketplace app combines the innovative loan shopping experience found on the Zillow Mortgage Marketplace site with interactive tools and calculators, helping consumers to understand and engage with every step of the mortgage process, all in the palm of their hand.
If you're underwater, looking to refinance or shopping for a mortgage, download the updated Zillow Mortgage Marketplace app for iPhone and iPad for free here.
Let us know what you think!