Zillow recently passed the incredible milestone of having 50,000 lender ratings and reviews online —double the amount from last year. 
Why is this important? Because for consumers, ratings and reviews have proven to be an extremely valuable tool when trying to find a lender. Likewise, ratings and reviews have been extremely valuable for lenders, too: Consumers are more apt to select a lender and make contact based on seeing feedback from other consumers.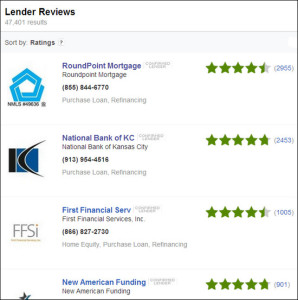 Many of our top lenders who quote on Zillow Mortgage Marketplace have been reviewed hundreds of times. Zillow's most reviewed lender is currently RoundPoint Mortgage, a national mortgage company that can provide most types of loans such as conventional, FHA and VA.
RoundPoint currently has 2,959 reviews and has an average rating of 4.5 out of 5 stars. RoundPoint has been part of Zillow Mortgage Marketplace for the past three years, helping more than 8,000 customers purchase or refinance their homes. 
To celebrate RoundPoint's achievement, as well as highlight the successful partnership it has enjoyed with Zillow since joining as a lender in 2010, RoundPoint is launching a campaign that celebrates its "countdown" to 3,000 reviews. The company hopes to hit this magic number before the end of 2013. To help keep track of reviews and progress toward this goal, RoundPoint has posted a review tracker on the company's Facebook and Twitter profiles.
You can find highly rated lenders such as RoundPoint Mortgage in your area by searching Zillow's lender directory or shopping for a mortgage quote on Zillow Mortgage Marketplace.
Have a lender you'd like to review on Zillow? Find the lender you've worked with in our directory. If your review is published you will automatically be entered to win an Apple iPad.