New tool helps the Housing Connector organization connect homeless with homes they can qualify for.
Chauncey Williamson of Seattle was homeless for the last two years. He applied for 20 apartments, and each time he got his hopes up. But Williamson was denied every apartment because of his credit history. "You want to be off the streets and you want to be in your own place," said Williamson. "Every time I would get denied, it would break me down."
Williamson is not alone. The latest one night count in 2019 revealed more than 11,000 people are now experiencing homelessness in Seattle and King County, including 5,971 people (53%) sheltered and 5,228 people (47%) unsheltered.
"There's a huge gap between the people who need housing and the housing that exists," said Jenny A. Durkan, Mayor of Seattle.
"Our community desperately needs more affordable housing," said Shkelqim Kelmendi, Executive Director of Housing Connector. "And while we're working to build that housing out, people need that home today."
A new way to solve for Seattle's housing gap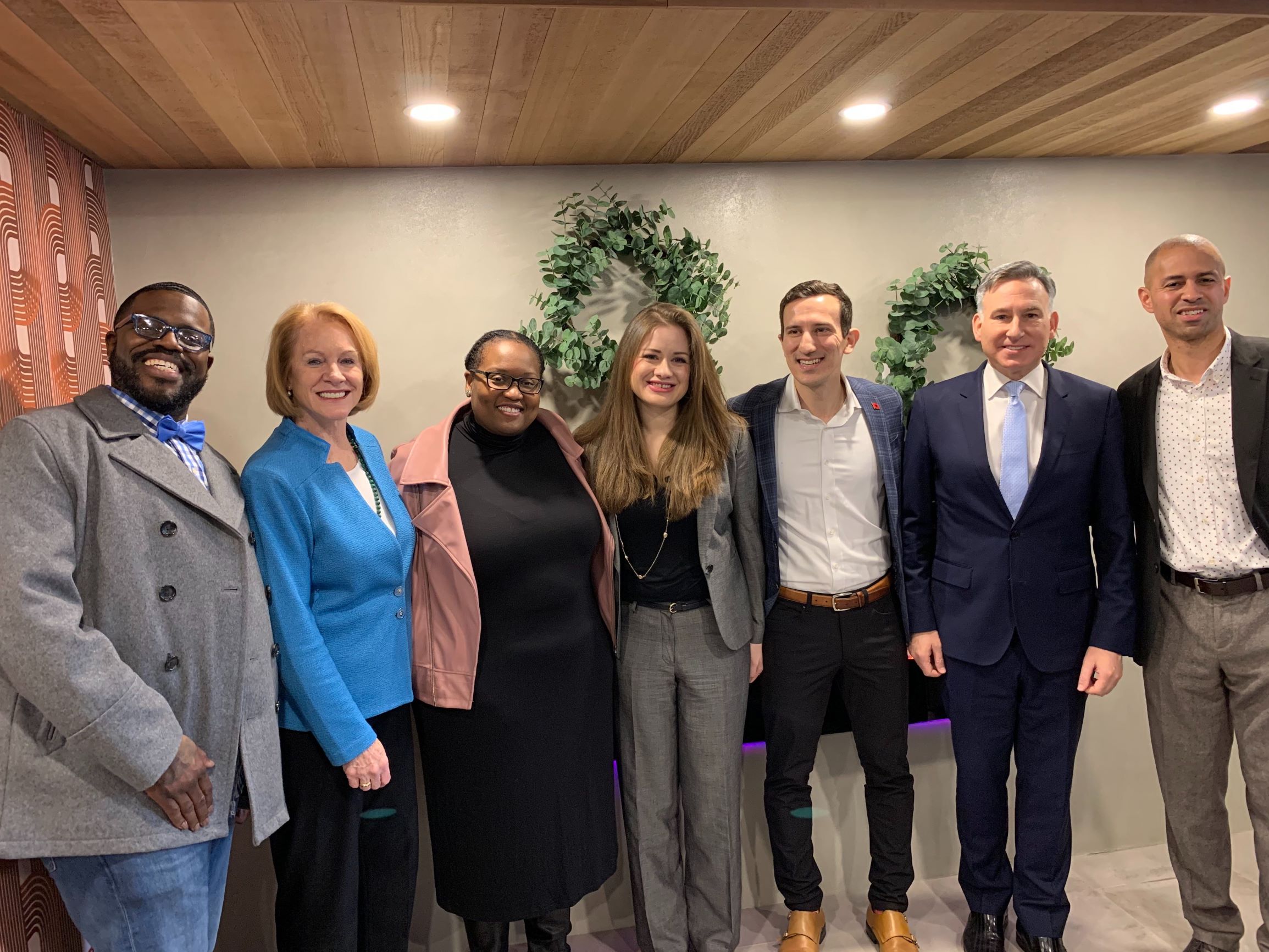 Zillow and Housing Connector, along with Seattle Mayor Jenny A. Durkan and King County Executive Dow Constantine, today launched a new tool that addresses one of the biggest challenges in the search for affordable housing— the time it takes to manually look for available homes that are affordable and accessible.
The tool was built through Zillow's partnership with Mayor Durkan's Innovation Advisory Council (IAC). It lets Housing Connector partner landlords to quickly upload housing inventory, and local non-profit service providers to find housing inventory in real time for their homeless clients. Housing Connector landlords have adjusted or waived criteria that would normally prevent people most in need from qualifying for the home.
"By partnering with Zillow, we're able to scale our approach and make more units available in real time to individuals experiencing homelessness," said Kelmendi.
How the tool was built
The search tool was developed by the Social Impact Product team within Zillow, a special team of software engineers and product managers dedicated to developing products that create positive change.
Working in close partnership with the IAC, the Zillow team leveraged the platform that Zillow has already built for finding homes to rent, and made the same functions available for Housing Connector and their nonprofit and landlord partners.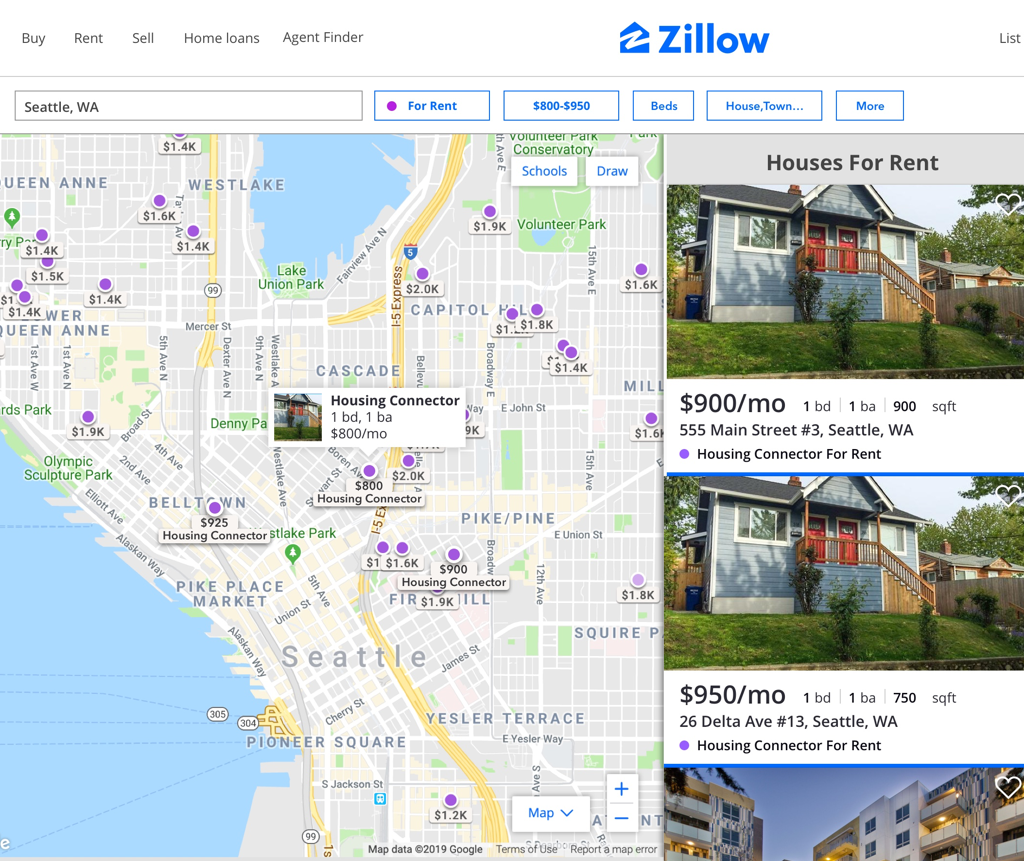 "Staff at Housing Connector and the organization's nonprofit partners can go into the portal to look for rental inventory to help their clients," said Steven Kwan, senior social impact software engineer at Zillow. "They can also grant access to the landlords and property owners who want to list their units through this program."
Kwan grew up in Seattle and has witnessed the homelessness crisis unfold. "For me to be able to use my skills to give back and create that access is a very special thing," he says.
About Housing Connector
Housing Connector is a landlord liaison program launched last year by a coalition of private and public partners – including the Seattle Metropolitan Chamber of Commerce, the City of Seattle, and King County.
To help attract private property owners and landlords as partners, Housing Connector provides free referrals to ready-to-rent residents and financial support to cover a variety of costs. This ensures access to benefits including guaranteed rents, security deposits, damage mitigation funds, and unit hold fees. In exchange, property owners adjust criteria or lower barriers for potential tenants, opening up units that previously were out of reach for individuals experiencing homelessness.
To date, Housing Connector has found homes for 460 people. However, without the appropriate technology, the organization's ability to scale across the region was severely limited.
Unlocking the next chapter
When Williamson got a phone call about finding housing through Housing Connector, he was skeptical. "I was thinking, 'okay, I've heard that so many times before.' I was thinking, 'that's not going to ever happen'."
Then came another phone call. "I ended up getting approved!," he said. "To hear the words saying I was approved and I could move in, I was elated. I was ecstatic. I was so happy I could do cartwheels."
Things changed for Chauncey Williamson after that phone call.
He moved into his new apartment last October and is about to start working for UPS, where he's been hired to a permanent position. Finding stable housing has restored his hope.
"The future looks very promising for me. I have a job lined up, a stable home, maybe I will have kids someday. I can see it," says Williamson.

To learn how to get involved with connecting landlords to renters experiencing barriers to housing, contact the Housing Connector program.