In 2016, we began publicly 'turning on the lights' by publishing annual data on our company's gender, ethnicity representation and pay equity. We also conduct gender compensation analysis twice per year to ensure employees doing similar work receive equitable compensation.
Today, our data for the past 12 months as of June 30, 2020 has just been released. These statistics highlight some progress and where we have opportunities to close gaps in terms of representation and pay equity.
Gender
Since 2016, we have increased the percent of women employees to 41.5%, while at the same time more than doubling our workforce from 2,472 at the end of the second quarter of 2016 to 5,344 today. More notably is the growth in women leaders during the same period. Women leaders account for 34.6% of Director and above leaders today, up from 26% women leaders in 2016.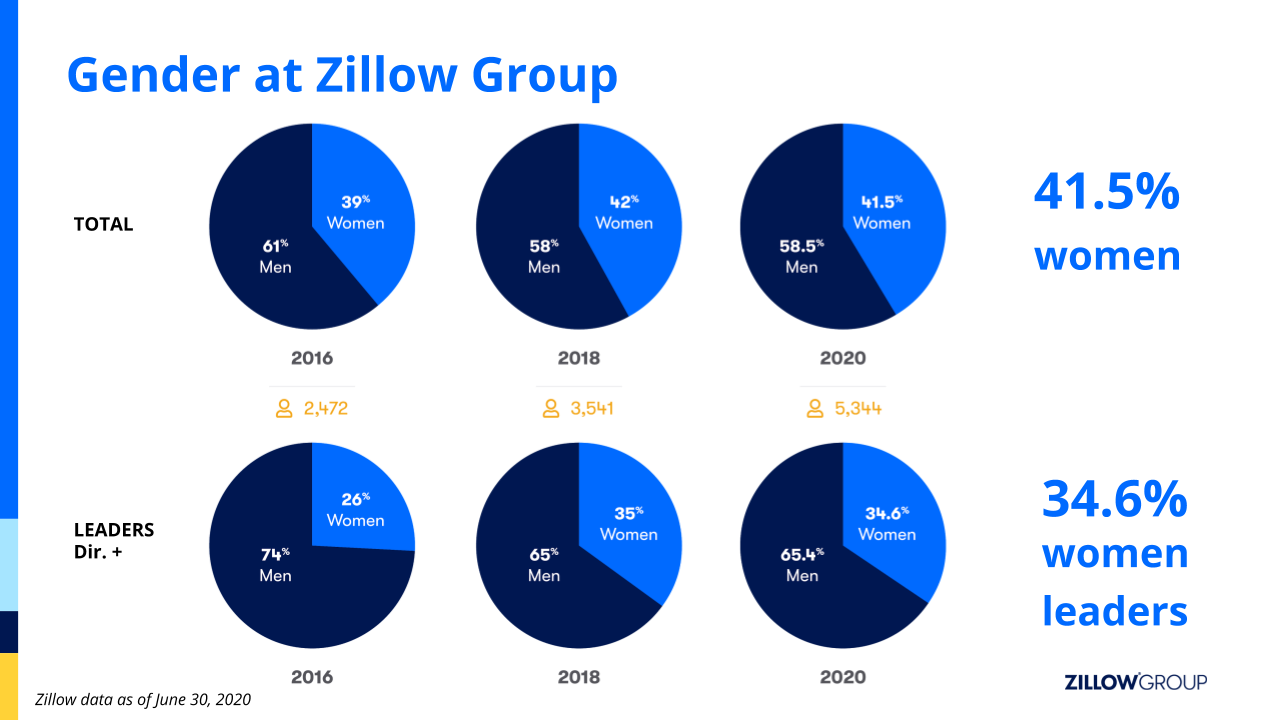 Ethnicity
We continue to make progress in increasing representation at Zillow Group, although we know we still have much work to do.
The percent of BIPOC (Black, Indigenous, People of Color) representation at Zillow Group has grown from 29% in 2016 to 37% in 2020. Since June 30, 2018, we have grown our employee base 51% from 3,541. During this same time, we have continued to emphasize diversity in recruiting, helping to increase representation of Black employees to 5.1%, up from 3% in 2018. Asian, Latinx and all other underrepresented ethnicities representation has increased slightly to 21.1%, 6.6% and 5.1%, respectively.
The diversity of our leadership (Director+) is lower than in our overall employee population with 77.9% white and 21.5% BIPOC representation, comprising 15% Asian, 3.4% Black, 1.5% Latinx and 2.2% Other Races. This is simply unacceptable. In late 2019, we built an Executive Recruiting team focused on attracting, sourcing and hiring diverse leadership across the company. We also have built robust action plans for each business unit to better hire and retain leadership pipeline talent.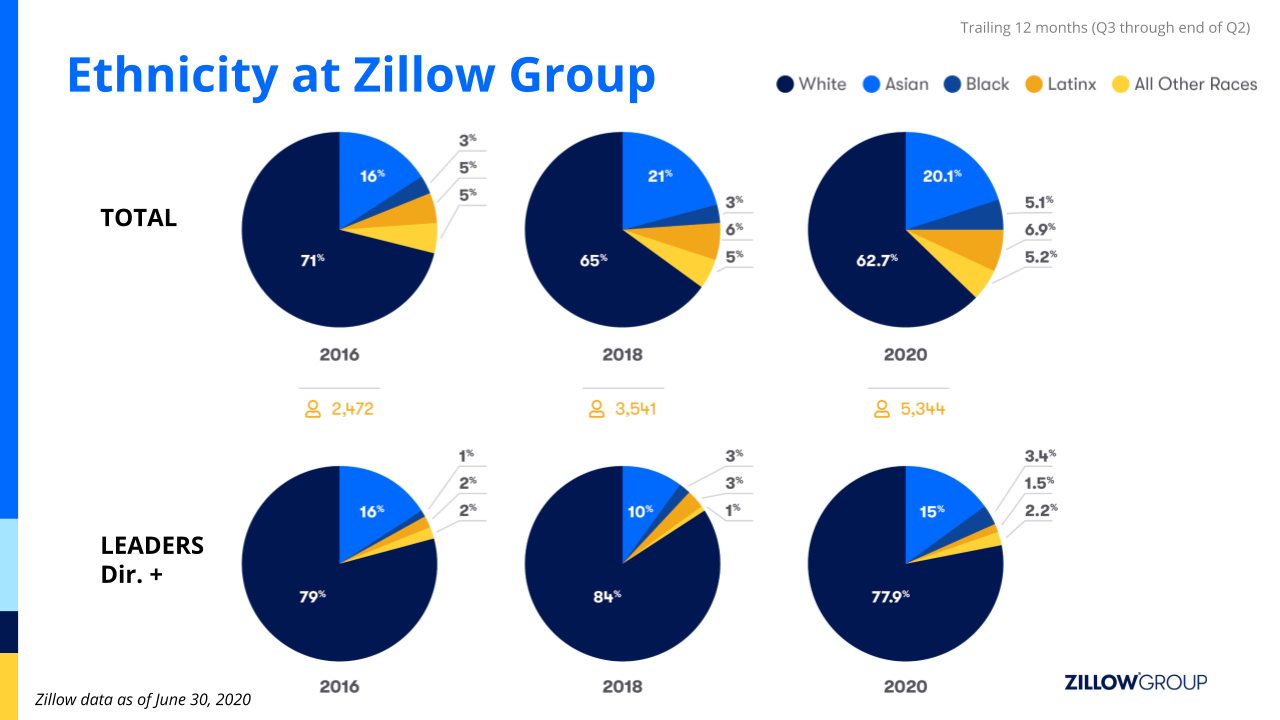 Pay Equity by Gender and Ethnicity
We are proud to report that for the last 12 months we have maintained pay parity between genders doing similar work. That means, on average, for every $1 a man earns, a woman also makes $1 when we control for job title, function and location. More specifically, White women at Zillow Group have controlled pay of $1 and Black and Latinx women controlled pay is $1.03 and $1.02, respectively. Asian women and men at Zillow Group have pay equity of $0.96 and $0.97, respectively.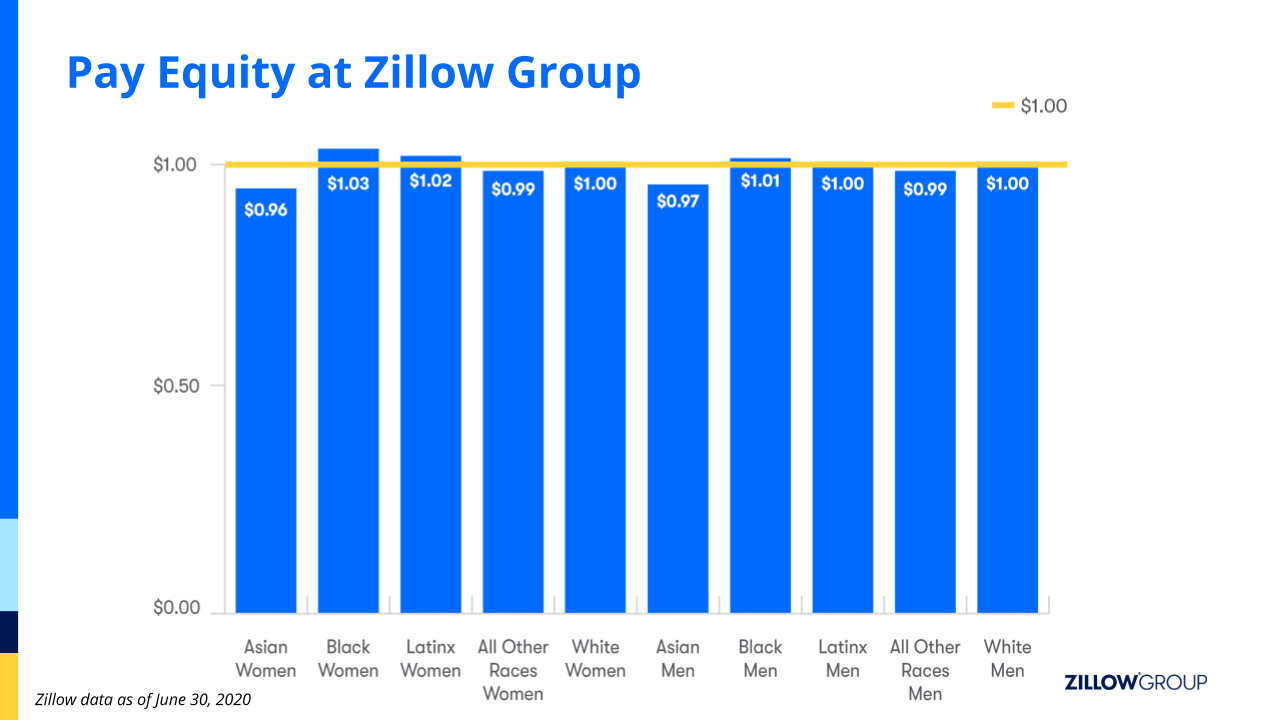 This new data provides insights into the road that lies ahead; it reveals progress — and that our work is far from over. At Zillow, we believe progress begins at home. As an employee, I am proud of our teams' efforts to create more equitable and just hiring, pay and promotions practices; and I'm proud of the progress we've made. But we cannot ignore the disparities that still exist. We can and will do more. We will redouble and measure our efforts in new ways to increase representation and equity across Zillow Group for our valued employee community.