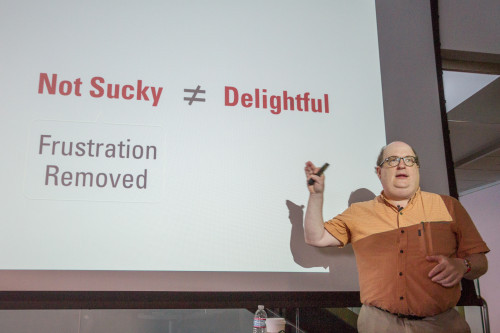 You can't talk about technology without hearing about the user experience. But before Jared Spool started working in the field of usability in 1978, it wasn't even associated with computers.
"It was the '70s, and all the systems were really frustrating," he said during a recent visit to Zillow's Seattle headquarters. "They weren't designed for the average person to use; they were designed for engineers."
Spool went on to found User Interface Engineering, the largest usability research organization of its kind in the world. For the first 20 years, his mission was to make frustrating Web and product experiences usable or satisfactory.
"Please stop sucking as much as you do — that's really all it was about," he said. "But now we know how to get to that usable point, so we have to do something else to be better. We have to be delightful."
Turns out, being delightful is no easy feat. "Things that are delighters today will be basic expectations tomorrow," he explained.
To hear more from Spool's visit, check out this video:
Want to hear from great guest speakers like Spool in person? Check out Zillow's job page; we're hiring!
Previous Zillow Speaker Series guests include: