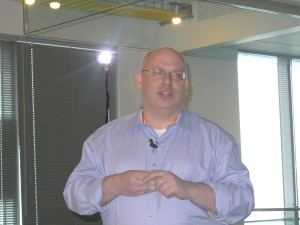 It's not every day you hear a CEO say: "We don't really talk about competitors much. We are obsessed with our customers." But Darrell Cavens, the man responsible for two of Seattle's most successful e-commerce companies, isn't shy about his love for Blue Nile and Zulily customers. He recently shared his story at Zillow's Seattle headquarters.
After working as a web-software engineer with no formal training in the '90s, Cavens came across a little startup called Internet Diamonds. Mark Vadon, the future CEO of Blue Nile and co-founder of Zulily, started it after a failed ring-shopping attempt.
"Mark was out looking for an engagement ring and went to a Tiffany's store," Cavens explained. "He was a super analytical guy so when the salesman asked, 'Which one speaks to you?' Mark was like, 'I'm out. I'm done.'"
Cavens saw potential for Vadon's business to take off, so he bought it in May 1999. Blue Nile soon became the largest online retailer of certified diamonds and fine jewelry.
"At first, we were a little bit like children in the Depression," Cavens said. "We learned how to market with nothing. We learned a tremendous amount we've taken to Zulily."
Blue Nile went public in 2004 and by 2008, Cavens was on to his next project.
"We started seeing innovation in e-commerce, but for the last 10 years, it was all about more, more, more. I saw an opportunity to go back to the days of curation — of telling a story," he explained.
Zulily, an e-commerce retail business for kids, babies and mom, was born. Cavens' goal was to cut through the big-box retail noise to provide relevant, affordable apparel and goods.
"We're like a newspaper, publishing a new version of the site everyday at 6 a.m.," he said. "Most of the brands are up and coming."
Zulily now has 10 million email subscribers and markets nearly 6,000 new skews per day. To put that number in perspective, a typical Costco store has 4,500 skews.
"At the end of the day, I'm a retail guy," Cavens said. "I love seeing the results."
Hear more of Cavens' story in this video:
Want to hear from inspiring people in person? Check out Zillow's job page; we're hiring.
Previous Zillow Speaker Series guests include: