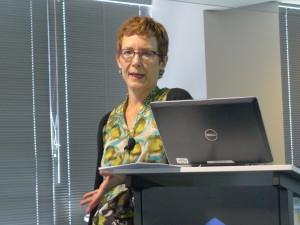 From commercials claiming you can lose weight by wearing a certain brand of shoes to those dreaded robocalls, the FTC's Laureen France has seen it all.
France, a senior investigator for the Federal Trade Commission, visited Zillow recently as part of the ongoing Zillow Speaker Series.
She believes anyone can be duped when the right vulnerability is targeted — be it weight loss, hair loss or a desire to get rich quick. If something sounds too good to be true, it probably is.
So how do you protect yourself? France identifies two red flags everyone should be aware of: upfront fees and an urgency to close the deal.
In the real estate industry, for example, France has seen cases of fraudulent timeshare resales, foreclosure scams and loan fraud.
At the other end of the spectrum, one of the most common scams involves a simple IQ test where you must enter your phone number to get the results. Entering a phone number, however, can lead to you becoming the victim of a mobile-cramming scam, where consumers are charged for unauthorized services.
In FTC v. Wise Media, LLC, France's team filed a lawsuit against a company that had fraudulently collected $6 million in 18 months, with 2 million phone bills wrongly charged.
"We all want to know how smart we are," France said in explaining why it's easy to fall victim to this kind of scheme.
Ultimately, France said, you have to be aware and ask the right questions.
Want to hear from people like France in person? Check out Zillow's job page; we're hiring.
Previous Zillow Speaker Series guests include: