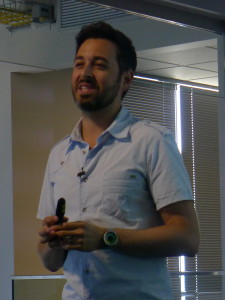 He's the CEO and founder of Moz, a marketing analytics, software development company in Seattle. But to locals, Rand Fishkin is known as the Wizard of the Mozplex.
What's the Mozplex, you ask?
When Fishkin recently spoke at Zillow's headquarters, he set the stage like this: "Deep in the bowels of plaid-wearing, craft-cocktail-obssessed, rainy Seattle, WA, there lies a strange place called 'the Mozplex.' Learn more about its curious denizens and their weird ways."
Such an introduction is fitting for a company promoting no-shave November and, more importantly, creativity and transparency in online marketing. But when Moz started, it was a marketing consultancy run by Fishkin's mom. It wasn't until Internet marketing began to take off that it evolved into the company it is today.
"My mom's clients started asking her for websites, so she went to her son," explained Fishkin. "But the whole son-dropping-out-of-college-to-build-websites thing didn't go very well. … Ultimately, clients weren't paying because they weren't getting traffic to their sites."
In response, the company switched gears in 2007, launching a set of SEO tools called PRO. "It took off because we had a strong blog platform, and clients came to us when we started a subscription model," Fishkin said.
At first, the company was called SEOmoz with a focus on search-engine optimization (SEO) consulting, but it was recently rebranded as simply Moz.
"We're not giving up on SEO, but we do a lot more than that," Fishkin explained. "If you want to be good at SEO today, you have to be great at content, social and community on the Web."
Learn more about the story of Moz in this video:
Want to hear from people like Fishkin in person? Check out Zillow's job page; we're hiring.
Previous Zillow Speaker Series guests include: