Zillow plans to report Q4 2013 results February 12, and we are pleased to announce we will be partnering with TheStreet to allow more investors and interested parties to participate in the conversation and connect directly with Zillow management.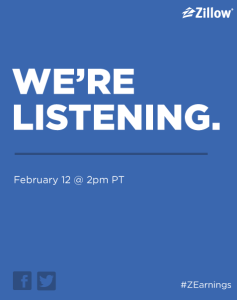 Zillow was the first company to take questions during an earnings conference call using social media, and this will be the fourth quarter in doing so.
To submit questions for consideration, simply use Zillow's Twitter account with the hashtag #ZEarnings or post to the Zillow Facebook page prior to, or during the conference call.
In addition to questions submitted by those dialed in, Zillow will also take a handful of questions posed through social media. Immediately after the earnings call concludes, Zillow CEO @SpencerRascoff will head to Twitter for a Q&A Twitter chat to answer any additional questions. The live Twitter chat will be moderated by @TheStreet and will use the same #ZEarnings hashtag.
TheStreet's Technology Editor Chris Ciaccia will also conduct a satellite video interview with Spencer. And, a recap of the social activity around earnings will appear here on Zillow Blog shortly after the conference call and Twitter chat.
The live webcast of the conference call will be available February 12 at 5 p.m. ET on the investor relations section of Zillow, Inc.'s website. Dial-in information for investors can be found in the press release. We hope you'll tune in and join the conversation.