Employees have championed Zillow as one of the best places to work year after year, but what makes working here so great? For most, it comes down to the culture. From championing innovation to celebrating achievements — Zillow's lean organization has provided employees with opportunities to shape the company culture.
See 10 favorite moments and traditions at Zillow.
Startup launch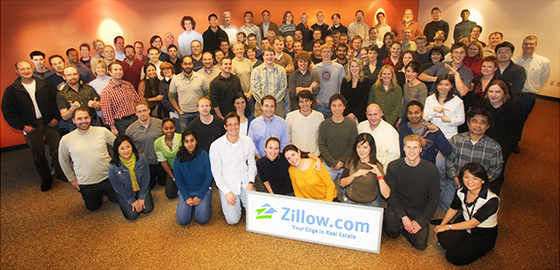 Zillow launched in 2006 with 75 employees in downtown Seattle. At the time, 40 million homes were on the website. That number has grown to 110 million now that Zillow Group operates the largest real estate network on the Web.
Zillow began "with a few people in an office, dreaming about how the Web might be used to empower everyday people to take more control of the scary, frustrating and exciting process of buying and selling a home," then-CEO and now Zillow Group Chairman Rich Barton said on launch day.
The launch set in motion a small-team, startup environment that the company has tried to maintain as employees try to find new ways to empower consumers. New products that have been launched over the years, like Digs, Rentals and Mortgages have been created by teams operating as mini-startups within the company.
Innovation Week

Hack Week, now known as Innovation Week, launched in 2011 and takes place three times a year. During the week employees dedicate their hours to special projects and present their work to the company. The week helps foster the startup energy that launched Zillow. Individuals pitch and collaborate with others across the organization on creative ideas.
The week has led to the launch of many new features on the website, including one that helps connect income-restricted renters with property managers. Employees have also used the time to accelerate the development of certain projects, such as an app for real estate agents.
Mohammad Sarhan, a senior group manager of mobile product strategy, said Innovation Week is a beloved tradition, especially to the development and product teams since it provides an opportunity to deliver the next big thing to delight users.
"For a lot of people, it's a revolution of ideas that now have a chance to rise up and shine," he said. "Take your crazy ambitious ideas, team up with people you might have never worked with, show off your mad skills and prove to the world that your idea is awesome!"
Kristen Acker, a vice president of product, said the week is intense and playful. And competing for prizes stirs up the creative and competitive juices.
"It's fun to break out of day-to-day routines and try crazy new ideas and new technologies — even involving drones," Acker said.
Giving back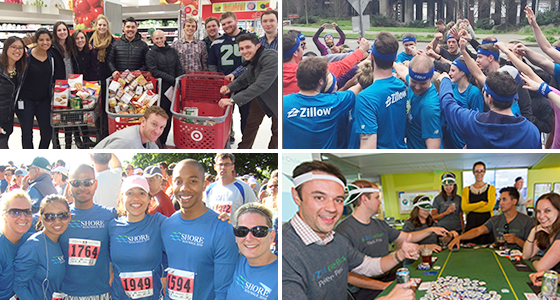 Since Zillow's founding, employees have led different ways to give back to the community — running or biking for a cause, collecting food or making cash donations. In 2014, employees founded a giving back initiative with a mission to promote these opportunities and to encourage employees to think bigger to make a positive impact.
"Zillow Gives Back tries to make the barriers to giving back disappear and meet employees where they are — they can give their time, share their talents or make in-kind or financial donations. It taps into the generosity and special interests and talents of our amazing employees and empowers them to have a positive impact on their communities," said Jackie Lasaracina, senior corporate counsel.
The program has already had great successes. In 2014 and 2015, employees gave more than $30,000 to the Make-a-Wish organization alone.
"Seeing how committed our employees are to giving back and making a difference is very inspirational and fits in with our mission and culture," said Corina Kolbe, director of learning and development.
Fitness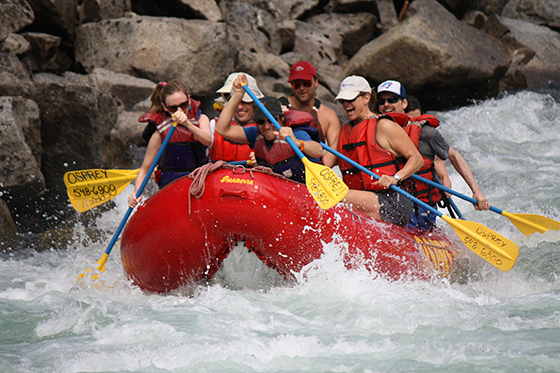 Employee fitness has also become a part of the cultural fabric. Employees organize and participate in a variety of activities: flag football matches, paddleboarding, CrossFit, rafting, yoga sessions and even Ping-Pong tournaments.
In 2013, each employee received a Fitbit to help them track their steps throughout the day. A challenge — with perks — was issued to encourage employees to track their steps during the day.
"I think a lot of employees were surprised by how much fun tracking their exercise could be," said Emily Smernis, a learning and development coordinator.
Jamie Plankenhorn, an email marketing manager, said she loves getting away from her desk on Wednesday afternoons for yoga.
"It's the perfect time to refocus and reenergize for the last half of the week," she said.
Fitness has become so integrated in the office that standing desks have been installed and some conference rooms feature treadmill desks. And the company now offers a reimbursement plan for gym memberships to inspire employees to stay active outside of the office.
Talent show

As more employees joined the company, sharing their off-the-clock skills with others became more of a challenge. Enter the talent show. Zillow's Got Talent created a way to see the secret passions of co-workers — beyond their professional personas. Each May employees gather to celebrate their abilities and vote on their favorite performances.
"We have an amazingly talented and creative group of employees, and it's so fun to see their colors fly — from tear-jerking performances to hilarious satire, and everything in between," said Rebekah Bastian, vice president of product.
Speakers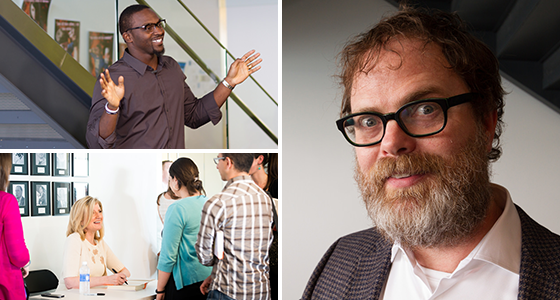 One of the benefits of working at Zillow is the opportunity to hear directly from innovative leaders in a variety of industries — technology, of course, but also sports, film and politics.
"We feel it's important for our employees to hear what other companies are working on, what their leaders feel is important and different journeys people have been on. People can bring the nuggets they learn back to their day-to-day to help inspire and motivate them or think of things in a new way," said Kolbe.
The speaker who received the biggest buzz with employees? Rainn Wilson. The actor came to talk about his work with the Mona Foundation, an organization that funds grassroots education initiatives around the world.
"It was so cool to see someone of his status so invested in a cause," Kolbe said.
The employees who work on Zillow Porchlight also had an additional surprise from Wilson. The actor spoke exclusively with one of the writers about what home means to him.
Halloween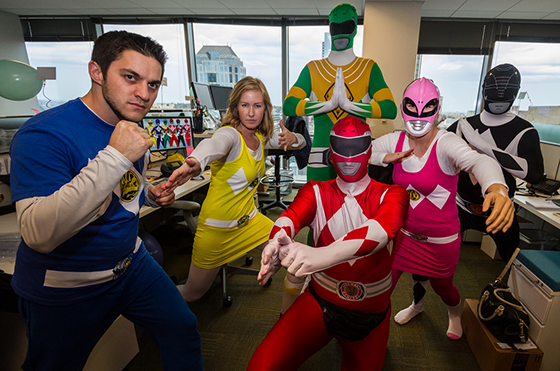 The annual Halloween party, which was one of Zillow's first company-wide celebrations, offers employees an opportunity to showcase their creativity and competitive spirit. Each year teams compete to win an award for funniest, best and scariest costume. Although trending topics from the last year often inspire employee costumes, nostalgia helps teams excel when it comes to the judging.
Humor
Not only do employees enjoy a healthy competition, keeping things fun is also important — even when it's at the CEO's expense. Setting goals and celebrating new milestones have become traditions — Winning Is Fun. When employees hit the goal for a "Can't Touch This" challenge, Spencer, as promised, wore hammer pants at the New York Stock Exchange.
Delivering on a promise I made to @zillow employees by wearing @MCHammer Pants @NYSE @CNBC #ZillowLife pic.twitter.com/U5OKrUZqky

— Spencer Rascoff (@spencerrascoff) September 9, 2015
Tough Mudder
In 2014, employees participated in their first Tough Mudder. Jeremy Gudoy, a customer care team lead who helped bring the event to Zillow, said it's now a big part of the culture because it matches up with the company's core values about team work and having fun.
"Although it is not a timed race and there is no determined winner, it is a challenge — a challenge that is pretty much impossible to finish without help from your team. Getting to the finish line with your team in this one-of-a-kind race is a huge accomplishment and that is winning to me," he said.
The Tough Mudder organization, which helped Zillow kick off its 2015 event, featured Zillow in their recent campaign.
Family-friendly workplace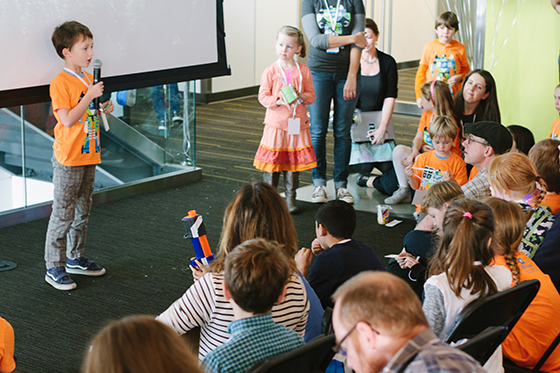 "As Zillow employees have grown along with the company, balancing family and work life has become more important, which has led to a family-friendly environment," Zillow Group Chief Operating Officer Amy Bohutinsky told TheStreet.
Events such as the Kids Day of Engineering is just one way Zillow embraces its employees' families. The event created a way for parents to show their kids what a typical day is like. But kids didn't just shadow their parents. They experienced some of the challenges designers, coders and leaders face every day.
"Kids Day of Engineering brought together two of our employees' most important values: their families and technological innovation. We were able to facilitate the traditional 'take your kids to work day' with an engineering twist — getting all of our kids excited about new technologies and problem solving," Bastian said.
Photos by Adam Cohn and employees