Adam "Crumby" Cohn: Not just a senior program manager. Not merely a photographer. Not simply a man in a "Got water?" sweatshirt.
A saltine-freakin' champion!
Cohn's terrifying Zall Wall photo (right) set the stage for this year's cracker-eating extravaganza. But he was up against "Got water?" teammates "Heimlich" Henrik Christensen and "Drymouth" Daniel Ellis — plus the formidable Gareth Snow, who shared these words of advice:
Sip, but don't drink too much water beforehand.
Eat two at a time.
Add more before swallowing the first load.
To the heavy beat of hits by '80s arena rock band Survivor, contestants qualified by stuffing themselves with at least six of the driest crackers on earth in a single minute.
During each qualifying round, hordes of Zillowites grew solemn, and cameras snapped. The cracker eaters agonized over their salty little squares — and it showed.
"It's not as easy as it sounds," one contestant said after his second try.
For the final round, the cracker-eating elite competed to be the first to cram 12 whole saltines down his or her throat. In the moment of victory, Cohn's spotter peered down his gullet and declared it clear — a new salty winner, true to his dream.
Part of the fun was live streaming a simultaneous challenge from Zillow's San Francisco office, where front end developer Federico Torre took the top prize.

Halfway around the world, 41 people competed in Zillow's Pune, India office, where Yuvraj Gupta was the winner.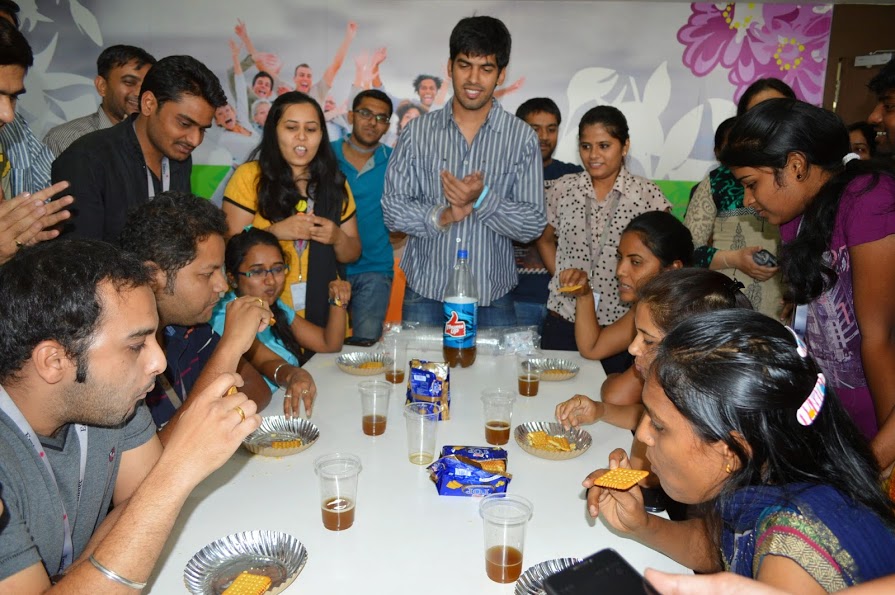 Zillowites in New York City, Orange County and Lincoln, NE also held challenges — and Saltine Challenge Organizer Extraordinaire Nate Moch said the winners might compete at an all-company meeting next winter.
Want a shot at saltine glory next year?  Zillow's hiring!
Seattle photos by Paul Moore and Adam Cohn. San Francisco photos by Alex Borkin. Pune photo by Swapnil Gaikwad.