The size of a city isn't the only way to measure its significance. Housing values are another key metric, and according to Zillow® research, 218 cities nationwide have typical home values of $1 million dollars or more. Seven cities made their debut in the million-dollar club in 2019, but another four cities fell off the list in the same period, the first time since 2016 that any million-dollar cities saw home values decline enough to get them kicked off the list.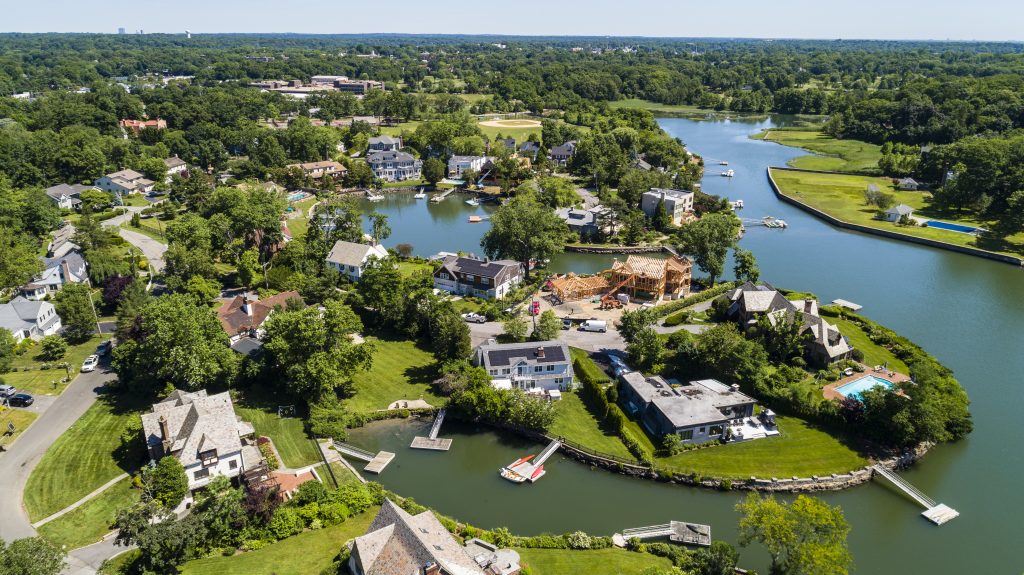 Zillow's director of economic research Skylar Olsen says home values fell in many expensive areas after a period of extreme price growth. "It's a sign that the excessive home value appreciation of the past several years drove prices too high — even beyond the reach of those who could afford almost anything almost anywhere else," Olsen says.
The names of the fallen
In November 2019, typical home values fell below $1 million in San Jose, Calif., San Quentin, Calif., Lexington Hills, Calif., and Laie, Hawaii. Assuming current rates of decline hold in 2020, five more cities will lose their $1 million status in 2020: Kailua, HI; Milpitas, Calif.; Harding Township, New Jersey.; Daly City, Calif; and Fremont, Calif.
The names of the rising
The typical home value in seven cities eclipsed the $1 million mark during the course of 2019 — Santa Ynez, Calif.; Telluride, Colo.; Forest Hills, Tenn.; Sierra Madre, Calif.; McLean, Va.; Moose, Wyo.; and Redondo Beach, Calif.
If current rates of appreciation hold, 11 cities will join the $1 million club this year — Needham, Mass.; Edgartown, Mass.; Longport, N.J.; and the California cities of East Pasadena, Glen Ellen, Alameda, View Park-Windsor Hills, Avila Beach, Clayton, Carmel Valley and Dana Point.
What does $1 million buy?
The typical $1 million home in the U.S. is a detached, single-family house that's about 2,200 square feet with four bedrooms and two-and-a-half bathrooms, according to a separate Zillow® analysis.
Of course, the value of any home depends greatly on where it's located. In El Paso Texas, $1 million buys you a 7,000 square foot, five-bedroom, five-and-a-half-bath house. In San Francisco, it'll get you a three bedroom, one bath single-family house with 1,150 square feet.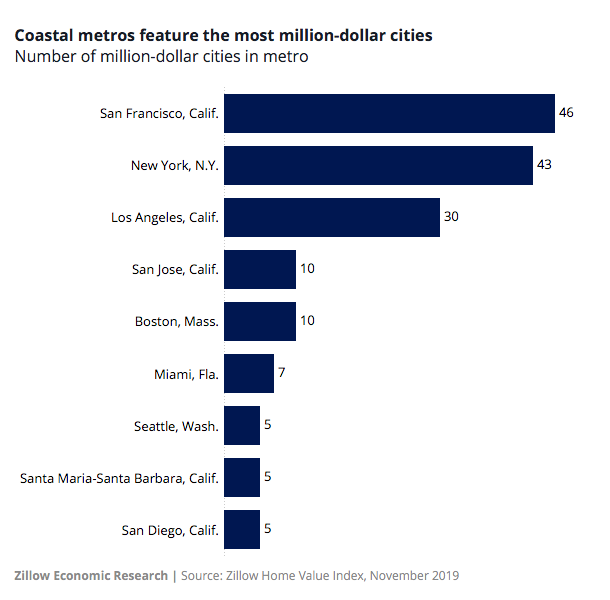 A full list of the 218 cities with typical home values of $1-million dollars is available for download: