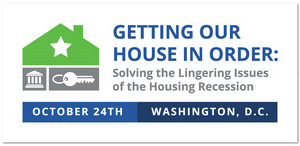 We've all heard of Fannie Mae and Freddie Mac, and how they're currently a hot topic of discussion in Washington, DC.
But what's the story? What kind of changes may happen, and how will they affect homeowners and home buyers?
Zillow aims to answer those questions later this month with our next housing forum. We're teaming up with the Bipartisan Policy Center to host a full-day event entitled "Getting Our House in Order: Solving the Lingering Issues of the Housing Recession," Thursday, Oct. 24 at the Ronald Reagan Building and International Trade Center in Washington, D.C.
We're honored to have Edward DeMarco, acting director of the Federal Housing Finance Agency, and Carol Galante, Federal Housing Administration commissioner and assistant secretary for housing, as our keynote speakers.
Additionally, we'll have a panel of the policymakers who are debating the changes to Fannie and Freddie, and consequently the entire world of housing finance. They'll answer questions directly from home buyers and homeowners about how the plans would affect the process of buying and financing a home.
You can register here for the free event. More information and ongoing news about the forum is available on our housing forum site or by following hashtag #HousingFuture on Twitter.
More on Fannie and Freddie reform: