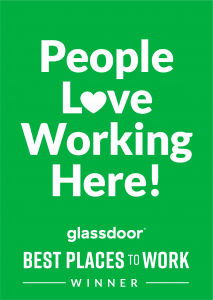 For the fifth year in a row, Zillow is honored to announce that we have been named one of Glassdoor's Best Places to Work in the U.S. What makes this award so special is the fact that it's entirely based on anonymous, voluntary feedback that employees posted on Glassdoor over the past year. This valuable feedback helps us continue to create a work environment that is open and inclusive, and provides all employees with an equal opportunity to realize their potential and do the best work of their career.
At Zillow, we believe our greatest assets are our employees. Here is what a few of them are saying about working at Zillow:
"I could not be happier with my role here. I leave work every day and week feeling good about my opportunities and contributions to the greater whole. I highly recommend Zillow as a career path." – Senior Business Consultant, New York City

"Zillow is already one of the best tech companies you can work for, and they are always striving to be even better." – Principal Software Development Engineer, Seattle

"Accepting this job was the best decision I ever made. It's already been life-changing. Imagine what it feels like to get 15 pats on the back and "attaboys" for simply closing your first sale, and then to get a barrage of emails congratulating you, from people you don't even know yet." – Sales Executive, Irvine

"The [work] environment is one that someone would dream of." – Client Engagement Specialist, Denver

"Culture is what we make of it here and everyone truly works hard to create a culture they want to see. Nothing like it anywhere that I have seen in 20 years of business, both public or private." – Client Engagement, Seattle
Additional highlights of Zillow's Glassdoor rating include:
95% of employees approve of our CEO Spencer Rascoff
83% of employees would recommend a job at Zillow to a friend
Employees gave Zillow's culture and values an average rating of 4.5 stars out of 5. While work/life balance and comp & benefits – which includes 100% premiums paid on health insurance, maternity and parental leave, gym reimbursement, and extensive bereavement leave – an average of 4.4 stars out of 5.
Does an award-winning work place sound like somewhere you'd like to expand your career? You can find current opening in all our nine offices here!