Unaffordability and racial inequity combined since the start of the last century to compound a gap between the Hispanic and white homeownership rates.
The homeownership rate gap sat at 25.8 percentage points just four years ago. Despite recent gains, the gap — sitting at 24.7 percentage points in 2018 — would take decades to close at that pace.
At the start of the 20th century, the gap was roughly eight percentage points. It widened significantly during and after each World War, and again during the Great Recession, when homes in Latinx communities were foreclosed upon at a much higher rate than homes in white communities, according to a Zillow® analysis.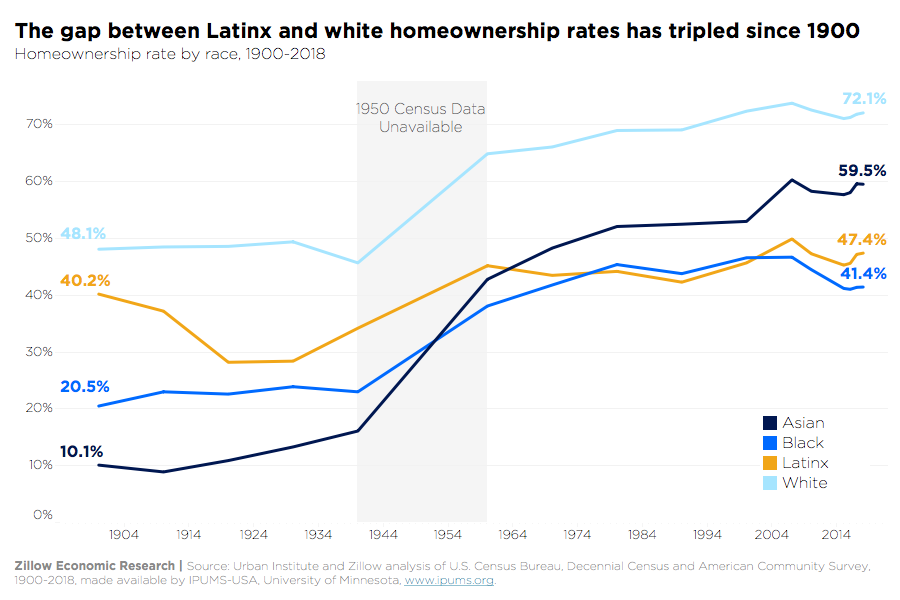 The typical Latinx household in the U.S. earns 75.7% of the typical white household, and the typical Latinx household wealth is only 12.2% of the typical white household wealth. That means Latinx households carry a far greater share (64.7% vs. 38.1%) of their wealth in their home, which made those families harder hit when home values nosedived during the Great Recession.
"In the face of a seemingly insurmountable disparity, the good news is that the Latinx homeownership rate saw recent climbs and, as a group, they want to own homes," said Skylar Olsen, Zillow's director of economic research. "It's too soon to say that trend will hold but, if it's supported, it will help build up the Latinx middle class and create a strong driver for the whole economy. Regardless of race or ethnicity, a growing diversity of housing options is essential for the wealth-building and health of all communities."
In 2007, near the height of the housing bubble, a home accounted for 73.1% of the typical Latinx homeowner's total wealth, compared with just 46.5% for the typical white homeowner. Because their homes accounted for a much larger share of Latinxs' household wealth, they had fewer outside assets to draw on when home values plummeted and they owed more than their homes were worth. Most people who went through foreclosure were not allowed another mortgage for seven years, which meant many Latinxs missed out on the post-recession rebound in home values, compounding the loss.
Today, discrimination concerns persist. About 16% of Latinxs say they've been treated differently in their search for housing because of their race, according to the 2019 Zillow Group Consumer Housing Trends Report. And Latinx home buyers are especially likely to mention discrimination as a concern when trying to qualify for a mortgage: 54% expressed concern, compared to 30% of white buyers.
Mortgage denial rates among Latinxs are falling, however. They dipped to 15.5% in 2016 for conventional loans, down from 31.3% in 2008. Still, the current rate is nearly double the 8.1% denial rate for white mortgage applicants, which is likely due in part to differences in income, debt levels, credit scores and savings.
The picture is not much prettier for Latinx renters. Households earning the median Latinx income could afford only 27.3% of rental listings nationwide in 2017. By contrast, households earning the white median income could afford 49.7%. Even when they stretch their budgets well beyond the point of traditional affordability, it's difficult for Latinx renters to find a place to live in many metro areas.
And the typical rent increase for Latinx renters is $200 a month, compared to $150 a month for white renters, according to Zillow's 2019 Consumer Housing Trends Report. They're also more likely to be hit by rental application fees: 73% of Latinx renters paid such fees, compared with 56% of white renters.
Despite the difficulties and uneven playing field, the Latinx community isn't shrinking away from homeownership. Latinxs are the most likely ethnic or racial group to think about buying a home – 77% think about it often, compared with 73% of blacks, 68% of Asians and 65% of whites.