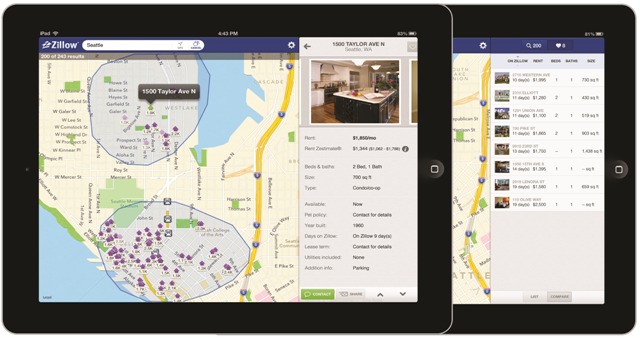 Today, renters face an incredibly competitive market as rental demand continues to increase and vacancy rates drop (rental vacancy rates dropped from 9.7 percent in first quarter 2011 to 8.8 percent in first quarter 2012, according to Census Data). In order to get a leg up on their competition, renters need access to tools that help them find the newest listings hitting the market, and contact landlords anytime, anywhere. Recognizing these obstacles, Zillow launched Zillow Rentals for iPhone and Android, which offer mobile shopping experiences designed specifically to address renters' needs. Today, we're excited to introduce the addition of Zillow Rentals on iPad, Zillow's first rental app optimized for the iPad's multi-touch interface and Retina Display.
Taking advantage of the iPad's large, visual screen, Zillow Rentals on iPad allows rental shoppers to begin their search via GPS, use the tip of their finger to draw one or more search boundaries on a map, or enter a specific location. Because renters are often viewing a high number of properties in shorter periods of time, Zillow Rentals apps also include features such as visually fading properties that have been previously viewed or contacted, the ability to compare favorite home photos and details side-by-side on a list or a map, and search results organized by time on market, ranging from same-day additions to homes listed in the past week. Additional rental-friendly features include:
Access to Zillow's database of more than 600,000 rental listings and data not found elsewhere, such as the Rent Zestimate® – Zillow's estimated rent price on more than 100 million U.S. homes and apartments.
Details on what's in the neighborhood, including grocery stores, coffee shops, schools, parks, gas stations and more.
The ability to instantly contact landlords or property managers by phone or email, and keep track of these contacts.
Options to search homes by property type, pet policy or custom keywords.
Are you searching for a new apartment or home for rent? Give the new Zillow Rentals app a try, and let us know what you think! It's free to download for iPad, iPhone and iPod touch in the iTunes AppStore, and in the Google® Play store for Android devices.
If you're not in the market for a rental, Zillow operates the most popular suite of mobile real estate apps with dedicated apps available on every major platform. Find the right Zillow App for you and take your house hunting with you anywhere.