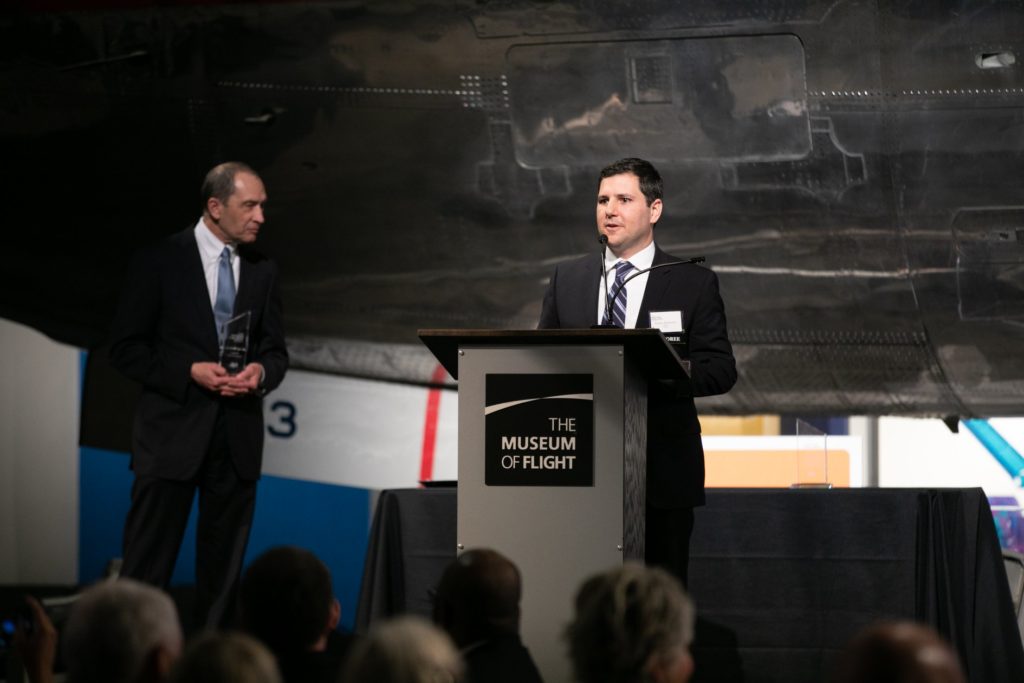 By Jeremy Wacksman, president of Zillow
Last Thursday, I had the privilege of sharing the story of Zillow with business leaders from the Pacific Northwest after receiving an Executive Excellence Award for outstanding leadership from Seattle Business magazine.
The award, one of 16 given to Washington business executives, gave me an opportunity to reflect on the incredible journey we've been on for nearly two years, reimagining real estate and bettering the lives of our customers.
The ceremony was held at the Museum of Flight, which seems fitting given the velocity with which we are transforming from a search-and-find marketplace to Zillow 2.0 — directly helping people buy, sell, rent and finance homes.
What started as a back-of-the-napkin vision is now much more than that. In less than two years, we've built so much of the platform that will become our end-to-end real estate experience for our customers. We've found new ways to serve our agent partners. We've developed scores of tools and onboarded new field teams and tech teams, all while supporting employees in ways that enable them to do their best work.
It's mind-blowing sometimes to think about it: We're building a best-in-class real estate experience that is fundamentally changing the way people move. We're innovating in every corner of the company. We're doing it with the best people in the business. And we're just getting started.
The next chapter
When I joined Zillow in 2009, the company was only three years old, and our mission was to build the largest, most trusted and vibrant home-related marketplace in the world.
In building that marketplace, we brought radical transparency to the real estate industry, empowering people to make decisions with the best available information. But we knew we could do more to get people into the home they love.
We knew from our research that sellers are especially stressed out; they're dissatisfied with the process and feel stuck. In fact, sellers told us their stress levels around selling surpassed wedding planning, teaching a teenager to drive or even getting a divorce. Most said it made them cry.
We thought, "What if we could streamline the process of buying and selling a home with a service that enables them to avoid the hassle and uncertainty of a traditional sale by selling directly to Zillow?"
So in April 2018, after thinking through possible solutions, we launched Zillow Offers, which lets people bypass hassles such as showings, repairs and uncertain offers by selling their homes directly to Zillow.
We thought we'd get a few interested customers we could learn from, and go from there, but we were blown away by the response.
We quickly learned that the market was far bigger than the people who needed or wanted a speedy move. People wanted a convenient, hassle-free way to move, and we knew we were uniquely positioned to help them. Our deep housing market data gave us a huge advantage, as did our trusted name.
The beginning of Zillow 2.0
We quickly scaled up, creating a dedicated Homes division of the company to focus on simplifying the home buying and selling process.
Every part of the company stretched and grew or remade itself in an ongoing effort to create a seamless pathway for people to buy, sell, finance or rent their home. We launched Zillow Home Loans, a mortgage company that helps people finance their next home purchase. We introduced tools like online applications and payments to help renters get into a home they love. We formed new teams and partnerships for on-the-ground inspections, repairs and sales.
In 2018, we brought Zillow Offers to five markets. Soon, we were fielding requests from sellers in those markets every five minutes! We had daily stand-ups, controlling the spigot so our teams wouldn't be overwhelmed by the demand and could continue to provide an exceptional experience to our customers.
In 2019, we rolled out to 17 new markets — including Los Angeles, the nation's second largest housing market — and are now in 23 markets. The shift required excellence in every corner of the company, from human resources and finance and legal; and to engineering teams, communications and marketing. Our success is a testament to all of the people who put in the hard work to get us here.
Customer obsession
Our philosophy moving forward remains the same: Relentlessly obsess about our customers, and always be learning. If we obsess about the people we're serving, we develop the kind of empathy that forces us to challenge assumptions so we can find new solutions to problems.
That constant seeking of solutions — that obsession with the customer — is part of our founding DNA and drives everything we do. And while we can feel pride about our accomplishments, the customer is ever changing, and we have to keep evolving to meet their shifting needs.
The journey toward home is a complex one; not everyone proceeds the same way. We have to understand the customer, what state they're in and what help they need so we can help them along in their journey.
That requires a growth mindset, and a willingness to test and retest products — and our assumptions. As we do so, we must remember that no one channel or team or function alone can solve a problem. Most of our challenges are cross-functional in nature and require teams of folks who are curious to learn and solve problems together.
2020 vision and beyond
Zillow Offers is only the beginning of what is possible in the transformation of customer expectations in real estate. It's a small step — thousands of transactions in a sea of more than 5 million home sales a year.
But that small step obscures the huge leap forward in meeting customer expectations. While most people will sell traditionally, Zillow Offers will be the way everyone starts: They'll have all the information they need — all that transparency upfront — so they can make a decision that works best for them.
Customers want that control whether they're buying, selling, renting or financing, and when they find it, they're not going back to what was.
We have the technology expertise, audience scale and brand awareness. But most importantly, we have our employees and our partners. I'm so grateful for our people; last week's award was a recognition of everything they've done to surprise and delight our customers.
Together, we will remove the friction from real estate and live our new company mission: Give people the power to unlock life's next chapter.