Do you have the stuff to survive?
If you had asked Lee Woodruff this question 10 years ago, she wouldn't have thought twice. Happily married to Bob Woodruff, who had just been named co-anchor of ABC's "World News Tonight," her life seemed impenetrable.
But on Jan. 29, 2006, everything changed. While embedded with the military in Iraq, Bob was hit by a roadside bomb, leaving him seriously injured.
"It was supposed to be a three-day trip, but by the time I got to see my husband, half of his skull was missing," Lee recounted to a packed house of Zillowites.
Against all odds, Bob has recovered, but it's been far from easy for him or his family. Lee recently visited Zillow to share what she's learned about survival.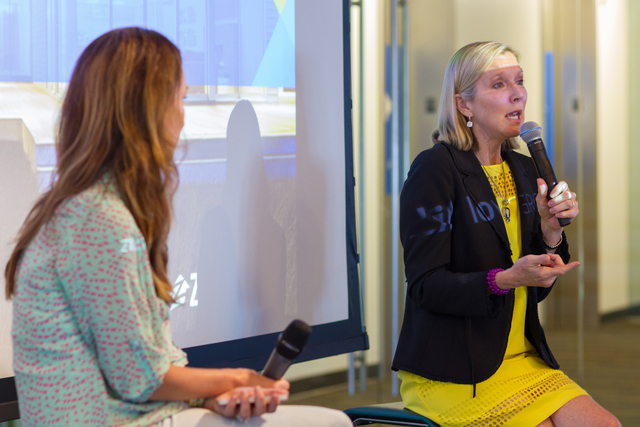 "Whatever you are going to face or whatever life is going to throw at you, you have the stuff to survive," she said. "But trauma puts a stamp on you."
Lee says she wouldn't have gotten through it all without a strong support system, faith — and a few laughs.
"It's those moments when you have your hands on the plan that the plan blows up — no pun intended," she said with a smile. "If you can't laugh at some of this stuff, you can't possibly heal."
Lee says when bad things happen, it's up to you to decide how you move forward. "You can get bitter, or you can try to make it better," she said.
But you can't do it alone. Without her mom, who nudged Lee to talk to someone, she says she wouldn't have taken those first healing steps, which included taking anti-anxiety medication for a year.
"I don't ever want to pretty this up. I suffered situational depression," she said. "But there are moments in life where you ask yourself, 'Am I supposed to take a risk here? What's the worst that can happen?'"
Since that unforgettable day in 2006, Lee has authored two books about her experience. She and Bob have also worked to shed light on the serious issue of traumatic brain injury among war veterans.
The Bob Woodruff Foundation works to assist wounded service members and their families. To date, it's raised more than $20 million.
To hear more impactful speakers like Lee, check out Zillow's job page — we're hiring!
Other recent Zillow speakers include: