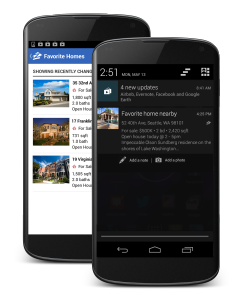 Every home shopper knows that using a mobile device to shop for a home is incredibly convenient – in fact, 55 percent of visits to Zillow now come via mobile device.
Today, we are rolling out a new feature for on-the-go home shoppers that takes advantage of cool new location technology that Google announced publicly yesterday, but made available to Zillow in advance.
Now, any time a shopper who has the Zillow Real Estate Android App physically gets near a home they've saved to their "Favorites," the phone will automatically provide them with directions to get to the home. And once the shopper is standing out front, they'll get quick access to photos and notes, so they can record their impression of the property and store all info about the home in one place.
It's not every day that Google lets a company on the inside of a new product offering – especially something as cool as their new location feature. We are honored that Zillow was chosen to be part of a select group of companies given early access to the technology.
At Zillow, our focus is to create the best mobile experience for the user and we are always looking to innovate that experience with new tools and features that disrupt the status quo for the better. You can download the Zillow app from Google Play, and we look forward to hearing how the feature helps your home search!
Listen and watch: Beyond the Blue Dot: New Features in Android Location