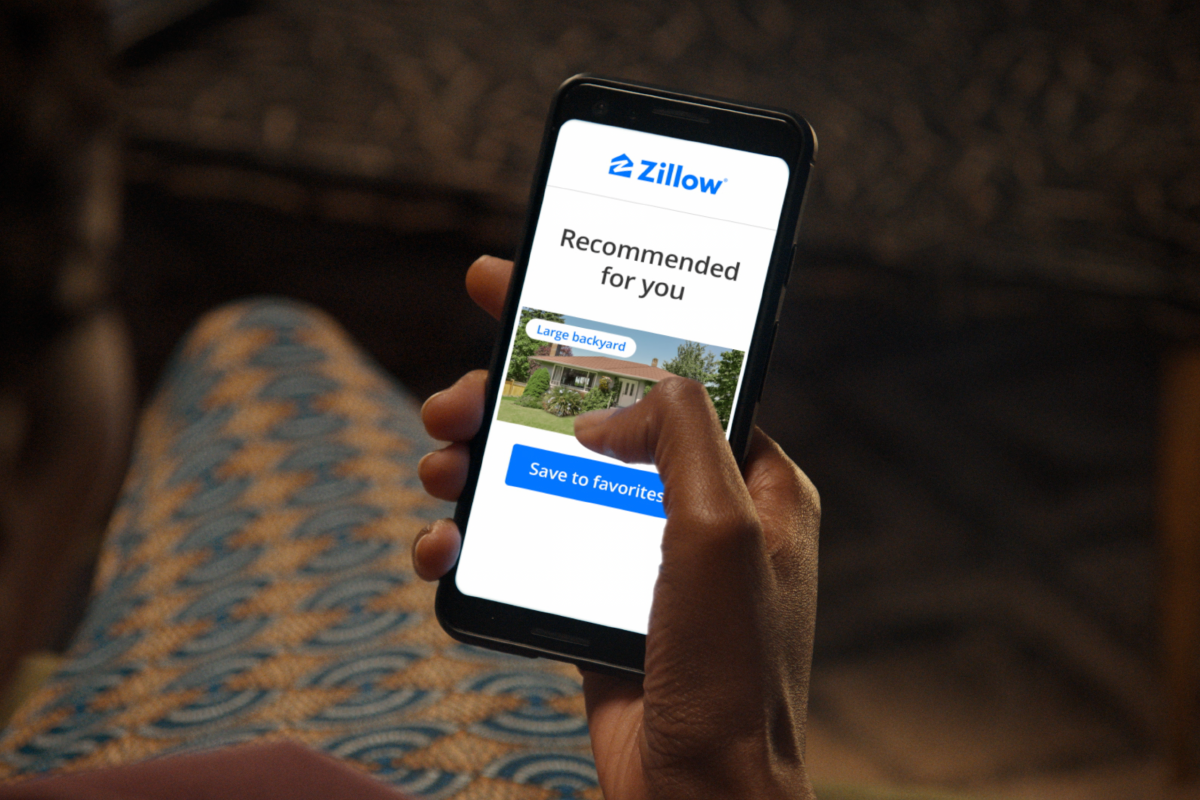 Todd Riddle is a serial mover. The Zillow executive creative director has packed and unpacked his life 19 times over the course of his advertising career, making him uniquely qualified to help tell the story behind two new features on Zillow that help make moving easier.
Two new ads promoting the features, produced in partnership with FIG, debut on television and streaming platforms December 27th, 2021. Both "capture the feeling of relief buyers experience when they use Zillow," says Riddle, "that feeling of, 'I'm in a better place than I was five seconds ago, because I'm finding homes that I actually want to move into.'"
The ads reflect Zillow's mission to make all aspects of moving easier, from search to closing. The two new features showcased in the ads demonstrate how Zillow helps people who are ready to take practical steps toward buying a home.
Personal recommendations based on lifestyle
Up to this point, filters for the number of bedrooms, bathrooms and square footage have defined a home search. Farah Abdallah Akoum, Zillow product management director, leads a team that's starting to change that. "Buyers are really shopping for a lifestyle, so we want to understand their needs and personalize their Zillow experience," she says.
---
---
One of Zillow's new ads presents a step in that direction: personalized home recommendations served by Zillow that are based on listings saved by customers. The ad shows a couple relaxing on their couch with an enormous yet cuddly pet mastiff. One partner's mobile phone buzzes, revealing the Zillow home recommendation headlined "large backyard." The partner hits save, a signal to Zillow's algorithm that outside space is a priority. "Moving is hard. That's why we're doing everything we can to take search to a new level, to make finding the right home easier for customers," Akoum says.
Home tours on your terms
In the second ad of the Zillow campaign, a middle-aged man cruises down a neighborhood street on his electric bike. He sees anxious-looking people in front of a home with an open-house sign in the yard. Instead of joining the crowd, the man uses the Zillow app to pick a time for a personal tour of the home. "The scene lets viewers feel the man's sense of calm, which is the opposite of the stress many buyers anticipate about home shopping," says Riddle.
---
---
The ad also signals Zillow's commitment to future innovations in home touring, in particular, to streamline the logistics of scheduling among buyers, real estate agents and sellers. "Zillow is no longer just a tool for dreaming about houses," says Zillow Chief Marketing Officer Aimee Johnson. "We are an inspiring and supportive partner that helps give people the power to unlock life's next chapter."
The campaign will launch with placements that will run during commercial time in ABC's "Good Morning America" and NBC's "TODAY." The ads will also air mornings, afternoons, evenings and overnight on national cable networks including, among others, HGTV and ESPN, plus streaming, online video and social platforms such as Hulu and Discovery+. The media campaign was managed by Zillow's media partner, UM.
Related:
8 trends to watch in the 2022 housing market
Is your bathroom light blue? Your home could be worth nearly $5,000 more than its competitors