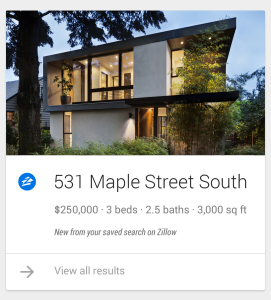 At Zillow, we pride ourselves in providing the most innovative and useful mobile tools and features, and we are excited to announce a new integration with the Google app to give home shoppers the most up-to-date and relevant information on new listings and open houses, right at their fingertips.
The helpful new Now cards organize information to give Android users a quick snapshot of pertinent details when they're needed most. Users who have the Zillow Android app can receive information on new listings and updates to homes they are interested in based on their preferences and saved searches on Zillow. When users find homes they like in the Now cards, they can then quickly navigate to Zillow's app to see all the home facts.
We were thrilled to be one of a select few companies that had the opportunity to work with Google in advance on its latest Now cards. This integration further highlights our commitment to home shoppers at any stage of the home process, across all major mobile platforms.
For more information, visit here.