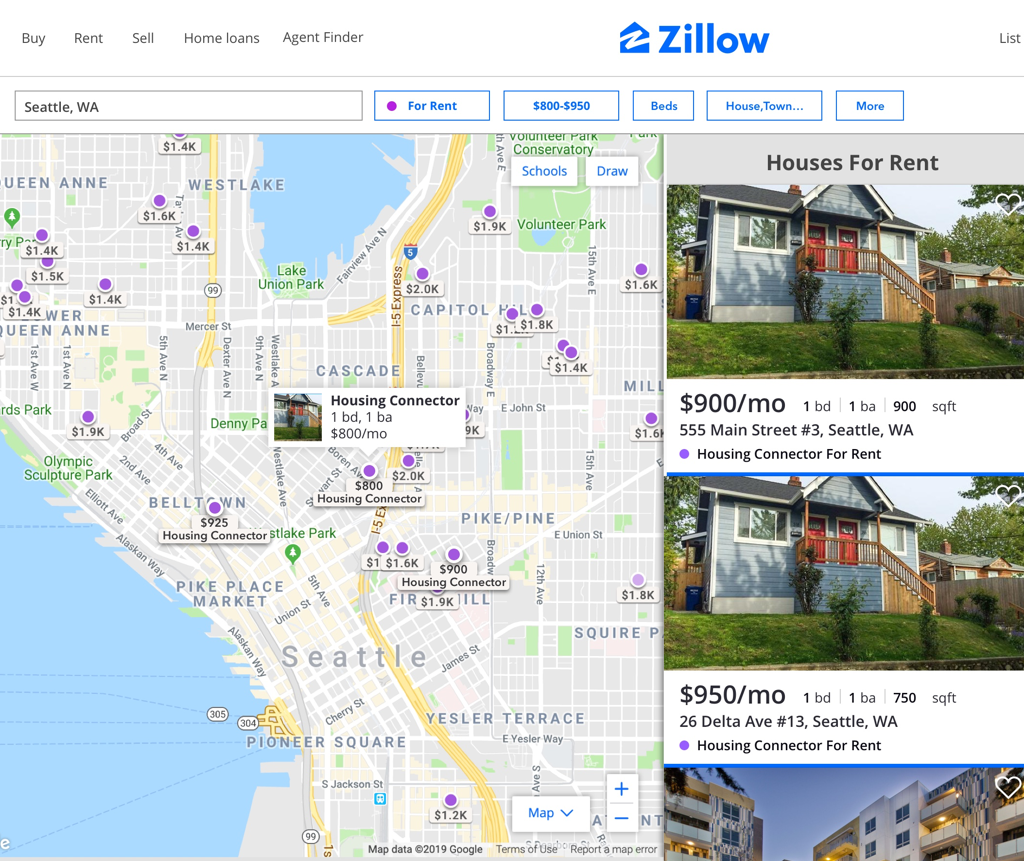 It's hard to say how many people have lost housing during the pandemic, and how much local community safety nets have been strained. One bright spot in Seattle is an organization helping find apartments for the unhoused, which launched the Zillow hosted search platform just six weeks before the first round of stay-at-home orders went into effect across Washington State.
Fifteen-hundred people have found permanent homes since July 2019 through Housing Connector, which connects landlords to case managers in search of housing for their clients. Zillow developed the tool that landlords and case managers use to find each other, accelerating what was previously a manual, time-consuming process.
---
The affordable housing search tool was the first product to ship from Zillow's social impact product team.
---
"COVID-19-related job losses put additional strain on low-income individuals in our community, increasing the demand for safe, permanent housing has increased over the past year," says Shkelqim Kelmendi, Housing Connector's executive director. "Zillow's technology — built right into its rental platform — helped us find vacant rentals faster and fill them more quickly than would otherwise be possible."
Housing Connector landlords have adjusted or waived criteria that may otherwise disqualify people most in need of a home. Residents in the program get ongoing support from social workers, and landlords are reimbursed up to $5,000 for any needed apartment repairs. Housing Connector also covers three months' rent if a tenant can't pay, a benefit which has helped landlords shoulder some of their financial losses related to ongoing eviction moratoriums.
The affordable housing search tool was the first product to ship from Zillow's social impact product team. Lead software developer Steven Kwan was embedded within the company's rentals product team to build the search tool into Zillow's existing tech stack, increasing the odds that housing nonprofits in communities beyond Seattle can leverage the effort. "By aligning our work with other teams, we ensured Housing Connector would be a win for all," says Kwan. "An added bonus was being able to introduce engineers across the company to the concept of socially inclusive engineering."
Last April, Fast Company awarded the collaboration with Housing Connector an honorable mention in its "World Changing Ideas Awards." In August, the Puget Sound Business Journal honored Zillow with the 2020 Corporate Champion, Neighborhood and Communities Award. The recognition shows that solutions to complex problems like homelessness can happen when businesses join forces with communities around a shared vision.
To learn how to get involved with connecting landlords to renters experiencing barriers to housing, contact the Housing Connector program today.
Read more about Zillow's community impact.