If you've ever saved a wishlist on Amazon, or a travel itinerary on Expedia, you probably appreciate the value of personalizing your site experience — not to mention having the site remember you each time you come back.
Along with a host of new things this week, we added a personalization feature called My Zillow, which allows you to track the value of any home. Buyers can now save the homes they're looking at in one place and can compare them side-by-side, and sellers can save their comparables — including their own home — to keep a pulse on the market, including what sorts of updates and home improvements people are making.
Though the benefit of a My Zillow account is most obvious to buyers and sellers, as someone not currently in the market to buy or sell, here's how I've been using My Zillow: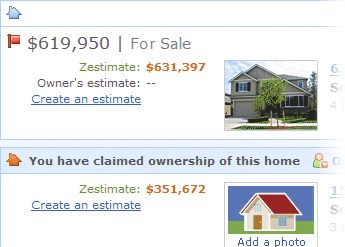 I look at My Zillow as my personal hub where I can store all of the homes I'm tracking. Right now I'm tracking the homes of my mom, brother, and our home. One of the cool things I've done with My Zillow is I've updated some of the estimates using My Estimator to add changes that my family has made to their homes, and I see all of these in My Zillow with an updated "My Estimate." (Note, I can only publish my own revised estimate– the estimates I've created for my mom's and brother's homes are only visible to me.)
What's really cool, is I can keep track of how these homes are doing via a monthly Home Report. These are sent to my inbox with updated Zestimate information and a 30-day trend of the Zestimate change.
To sign up to receive reports on your favorite homes, go to the Favorite Homes section in My Zillow and select the Home Report check box.