Allyson Edwards, a stay-at-home mom, relocated to San Diego last fall for a job opportunity for her husband. After renting for a few months, they decided to take advantage of the low mortgage rates and started hunting for the right home. They used Zillow religiously, checking for listings of homes in the areas they wanted to buy. She also used Zillow's app on her phone and received updates on new listings. She explained that the market moves very quickly in San Diego, so "Zillow was a big help." The couple found the house they ended up buying through Zillow.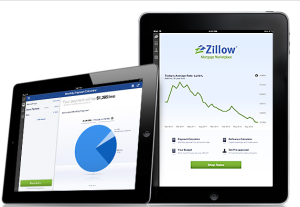 When it came time to get a mortgage, Allyson says, "we weren't happy with the rates that our agent's suggested mortgage lender was offering." She went to Zillow and searched for lenders and found Metro Capital, which had great reviews. Once she contacted Metro Capital, a lender that quotes on Zillow Mortgage Marketplace, the couple ended up having a wonderful experience with the company. Allyson was particularly impressed with Metro Capital because the couple were on a tight timeline, and the staff was able to work hard to make sure they closed on time.
On March 5, Allyson left a glowing review for Metro Capital on Zillow and was automatically entered into our Lender Review iPad Sweepstakes. In April, Allyson was selected as the winner of a 16 GB Wi-Fi Retina Display Apple iPad. When Allyson got the great news, she exclaimed "I am so excited to win the iPad!  You have no idea!"
Now she will be able to use the new Zillow Mortgage Marketplace App for iPad, which is a great tool if she chooses to refinance in the future. The iPad app includes a refinance calculator and the ability to shop for real-time refinance quotes, plus so much more.
Zillow's goal has always been to empower consumers with information about real estate. We currently have more than 30,000 lender reviews on the site, and these reviews help consumers get quick and candid feedback about a company or real estate professional, helping consumers make easier and faster decisions.
If you'd like to share your experience with your lender and get a chance to win an iPad, submit a review for a lender in Zillow's Directory.
Here's how:
1. Hover over the "Find a Pro" tab and scroll down to "Review an Agent, Lender or Pro."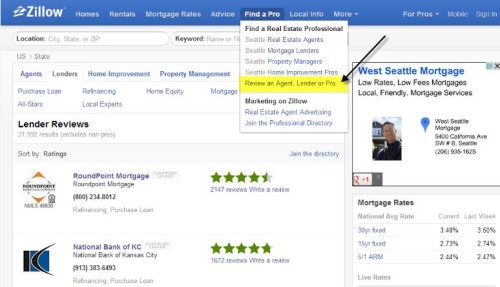 2. Make sure to select the tab "Lenders." In the Keyword box type in the lender's first and last name or company name.
3. When you find the profile for the lender you worked with, click on the hyperlink "Write a review."
4. Fill out the lender review form and press submit.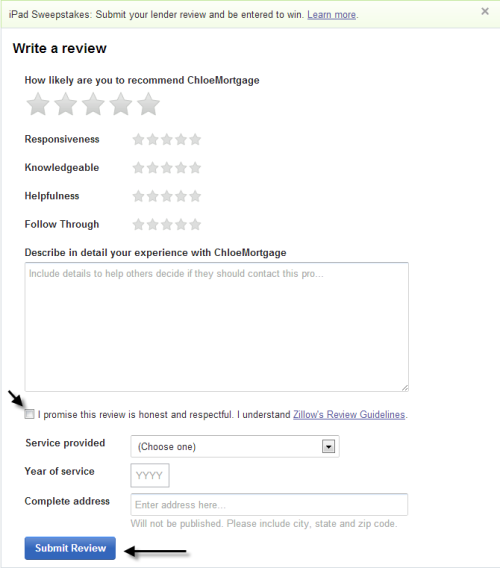 That's it! Once your review is reviewed by our team of moderators and published you will be entered to win an iPad.
We are currently accepting entries for our next iPad sweepstakes winner, so don't wait. Submit a review of your lender today!
The full rules of the contest can be found here.