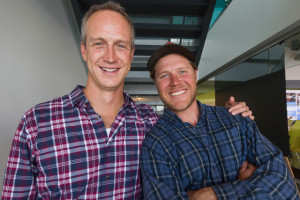 What's it really like to live in a tiny home? John Weisbarth and Zack Giffin, hosts of FYI Network's "Tiny House Nation," know better than anyone. Giffin built his own tiny home and now travels across the country helping others "go tiny."
To a packed house of Zillowites, Weisbarth and Giffin provided a behind-the-scenes look at the hot real estate trend. Living tiny, they explained, starts with decluttering your life and ends with smart, creative designs measuring less than 500 square feet.
But these aren't your typical homes — they've got everything from dining tables that fold into doors to hidden storage underneath floor boards.
Watch the video above to see their latest creations and what it takes to go tiny.
To hear more speakers like Weisbarth and Giffin in person, check out Zillow's job page; we're hiring!
Photo: Adam Cohn
Recent Zillow speakers include: