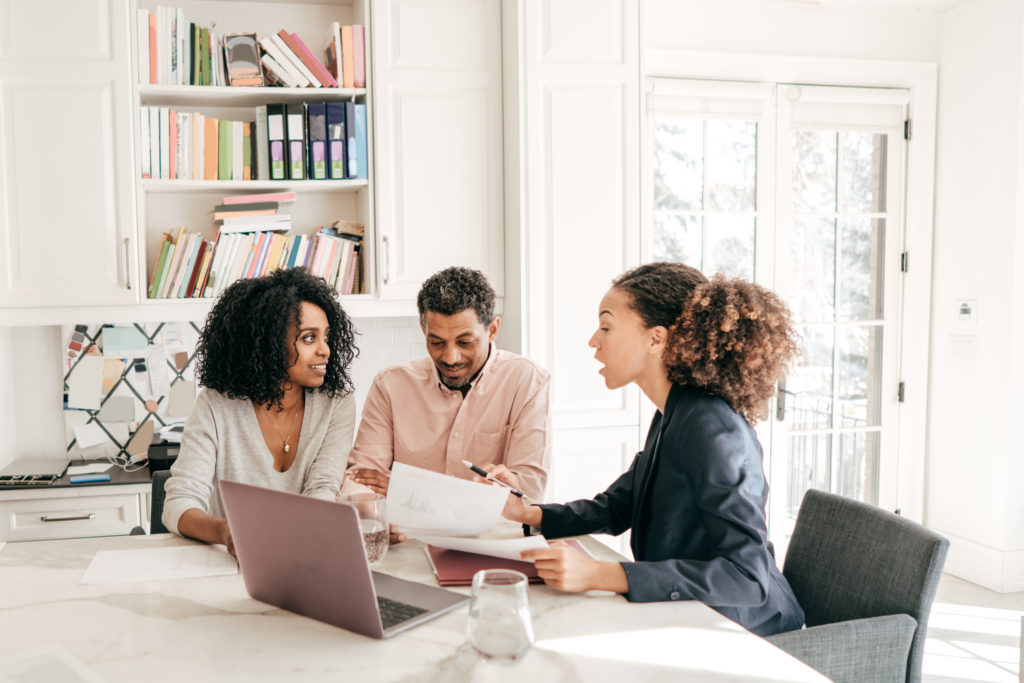 Coronavirus has impacted almost every aspect of life, with one of the few bright spots — historically low mortgage rates — providing opportunity for both homeowners and home shoppers amid a tumultuous economy.
Mortgage rates have been hovering at or near record lows for months — even sinking to the lowest level in the past 50 years. So, what does this mean for you?
Kenneth Murphy, a homeowner in Texas who recently refinanced his mortgage through Zillow Home Loans, says the current low rates were extremely appealing, and he and his wife, Rose, wanted to explore whether refinancing was a good route for them. "What caught my eye was that rates were the lowest in history," he says, "and we used Zillow's refinance calculator to check our current finances, which showed us we were right on par to refinance."
If you're a homeowner or first-time home buyer, you may be wondering how to use these record-low rates to your advantage, especially given the uncertain state of the economy. Zillow economist Matt Speakman has some expert insights that can help you decide on the best course of action for your situation.

Q: Why are mortgage rates so low? How long will they stay this way?
A: If you're wondering how mortgage rates have stayed so low for so long, you're not alone. The simplest answer: the coronavirus pandemic.

Mortgage rates are generally dictated by bond yields — if yields go down, mortgage rates likely will follow. The Federal Reserve lowered interest rates to 0% in March to help the economy as the country headed into this recession and — since the Fed has not shown any plans to increase rates — bond yields will likely remain low, which in turn, will keep mortgage rates low.

Speakman says the fate of mortgage rates largely depends on any news or developments that shows the country can control or contain the pandemic: "Any positive news regarding an effective coronavirus treatment or vaccine, or evidence of the economy's ability to withstand the impacts of rising coronavirus cases, would likely improve market sentiment and send rates back up from current lows."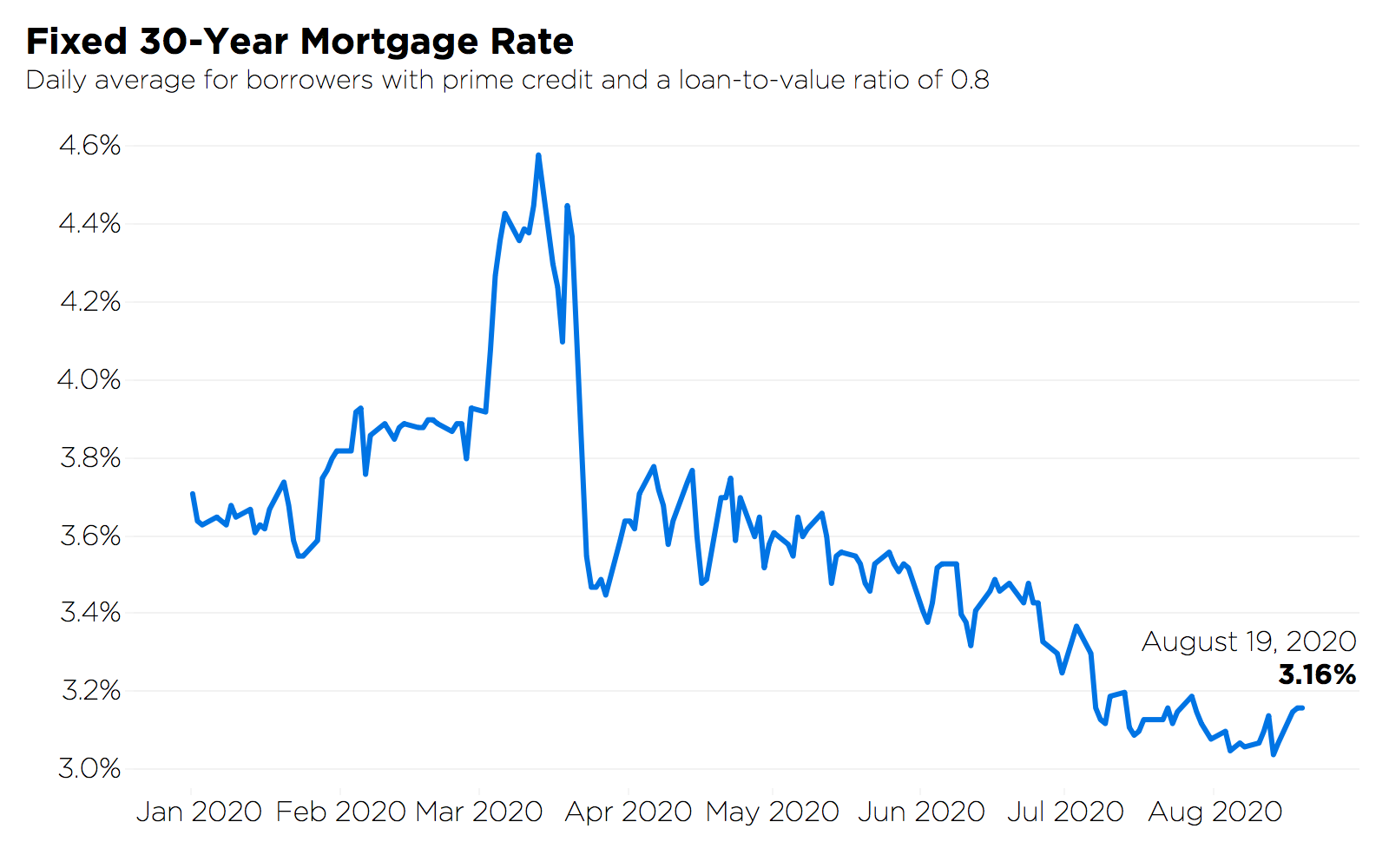 So remember, if you're tracking mortgage rates as you consider whether to buy or refinance, also pay attention to coronavirus-related news — positive developments could jolt rates back up, while negative or no news should keep rates steady. However, other factors, such as delinquencies in mortgage loan portfolios held by investors, are a factor that can influence trends as well.

Q: Should I refinance now?
A: "For many, now is a great time to take advantage of low rates to refinance your home loan and push down monthly payments," Speakman says.

His advice: Focus on the rate. "One rule of thumb is if you are able to reduce your rate by more than 1 percentage point, refinancing makes financial sense." It's important to understand what fees and closing costs you'll pay in the process, and factor those in to find your break-even point (Zillow's refinance calculator is a great place to start). He also emphasized a change in your credit score, financial situation (i.e. losing a job, buying a car, etc.), and other factors should always be considered. For example, a large purchase on your credit card can dent your credit score, and in turn, your chances of approval. Or it could drive up your quoted rate. A general guide is to wait on any big purchases until after you close on your mortgage.

The most common reason to refinance is to secure a lower interest rate on a loan. And, as mortgage rates are sitting low with no imminent signs of increasing substantially, now would be a perfect time to capitalize — but don't try to time the market. Keep in mind that positive COVID-19 related news, such as a vaccine, effective treatment or prevention, will likely cause the markets to rally and boost mortgage rates as a result. There's no guarantee the trend of record-low rates will continue, so if you're hoping to refinance now, find the rate that makes the most sense before the opportunity is gone.
One of the biggest mistakes you can make is jumping on the first quote. Make sure to shop around for the best possible rate before moving forward.
Another option: A cash-out refinance which converts your home equity into cash. It replaces your existing mortgage with a new home loan for more than you owe on your house, and the difference is provided to you in cash. It could be a good choice if you have significant equity in your home and need access to cash — for home improvements or for debt consolidation, for example. Cash-out refinances right now might have a lower interest rate than the one on your current mortgage, especially if you originally bought your home when mortgage rates were higher. However, if your property value has fallen, a cash-out refi is not your best option. Also, avoid the temptation to use the cash for irresponsible spending. Since this is a brand-new mortgage, your terms will also be new, so make sure to double-check your interest rate, fees and term length before agreeing.

No matter what option you choose, it's important to take into consideration your current situation — if you're in your "forever home" and don't plan to move anytime soon, it might make more sense to refinance. But, if you're planning to sell in a couple of years, a refinance may not be worth it because the fees and closing costs (such as Fannie Mae and Freddie Mac's new 0.5% price adjustment) you'll pay will likely outweigh the savings — or make the savings very minimal — by the time you move.
Q: Do low rates mean now is a good time to buy?
A: Put simply, low mortgage rates can increase your buying power as a home shopper. If you've had plans to purchase a home and still find yourself in a good financial position to do so, then now may be a good time to head into the market. Low rates allow homebuyers to afford a larger home loan — and buy a more expensive home — for the same monthly payment, or to save money on their monthly payment.
However, the current housing market is favoring sellers, and buyers are competing over fewer listings than normal for this time of year. With that in mind, be prepared when you start your home shopping journey. Have your finances in order, shop around for the most competitive rate, and get pre-approved before jumping into the market. Homes are continuing to fly off the market at record pace, so it's important to be ready to pounce quickly when you find a home you love.
Q: What type of loan should I get?
A: Base your decision about what loan type to pursue on your current financial situation and life plans.

Here's a breakdown of the most common options:
Fixed rate mortgage: the loan's interest rate remains the same for the life of the loan. These are typically for 30- or 15-year terms.
Variable rate mortgage: the interest rate fluctuates over time, determined by the changing market.
Adjustable rate mortgage (ARM): this loan features both rate structures – variable and fixed. The loan typically uses a fixed rate for the initial period (often 5 to 10 years) before moving to an adjustable rate.
If you're planning to stay in your home for a while (think ten years or longer) and have significant life events to save for (such as starting a family, paying for school, saving for retirement, etc.) a 30-year fixed rate will be your best option. In most cases, it also allows flexibility to pay off the loan quicker — you can pay more than required each month if you'd like — while still being able to fall back on the original payment schedule and amount if needed. However, if your goal is to build equity or pay off your home quickly, and you're able to afford a higher monthly payment, a 15-year mortgage is your best option because it offers significantly lower borrowing costs.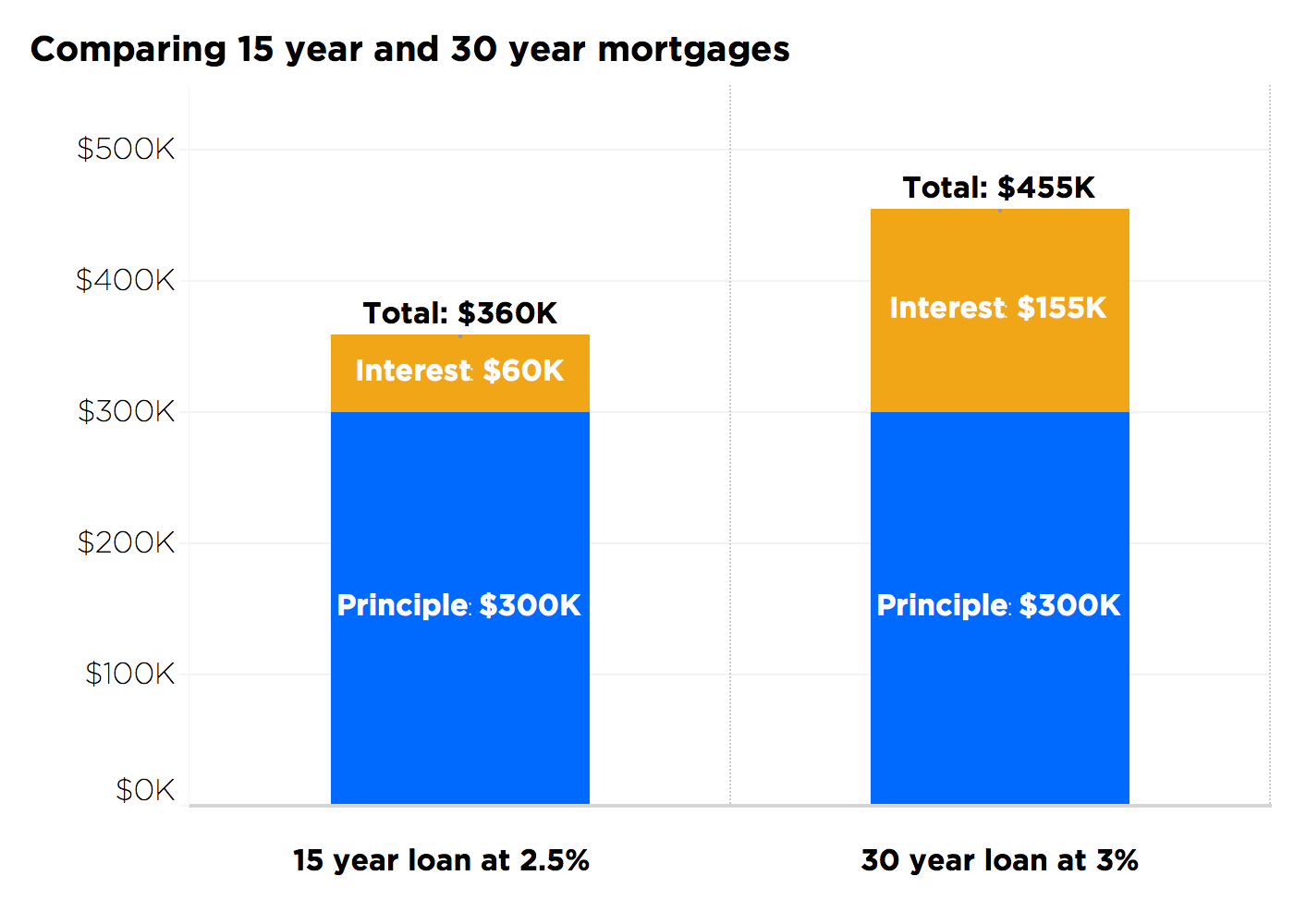 An ARM may be the best option if you plan to sell your home in a few years or refinance in the short term. Keep in mind the longer you have a mortgage, the riskier an ARM will be, so this likely isn't the best if you plan to stay put longer than a few years.
If you're having trouble deciding which option is best for you, consult a trusted financial advisor about your goals, and analyze your current financial situation. While all loan types offer benefits and drawbacks, the decision is based on your personal situation.
Q: What are my options for getting a loan?
A: Speakman suggests working with a mortgage lender or broker is the best way to determine which loan option (fixed or variable) and which term length (30- or 15-year) is best for you — but remember to shop around for the most competitive rate.
Zillow also has a variety of tools for customers to figure out what mortgage is best for them to make securing your mortgage easy. Zillow's refinance and mortgage calculators can be helpful in determining if refinancing is the best option for your unique situation, and help you understand what mortgage you can afford. There are also plenty of other resources available in Zillow's Mortgage Learning Center to dive deeper on the topic.
While now is a great time to use low mortgage rates to your advantage, Speakman emphasizes to not let mortgage rates alone drive your decision. Buying or refinancing a home is an extremely personal decision, and it's important to thoroughly consider your current financial situation, risk tolerance, lifestyle preference, near or long-term goals, and many other factors before ultimately making a choice.