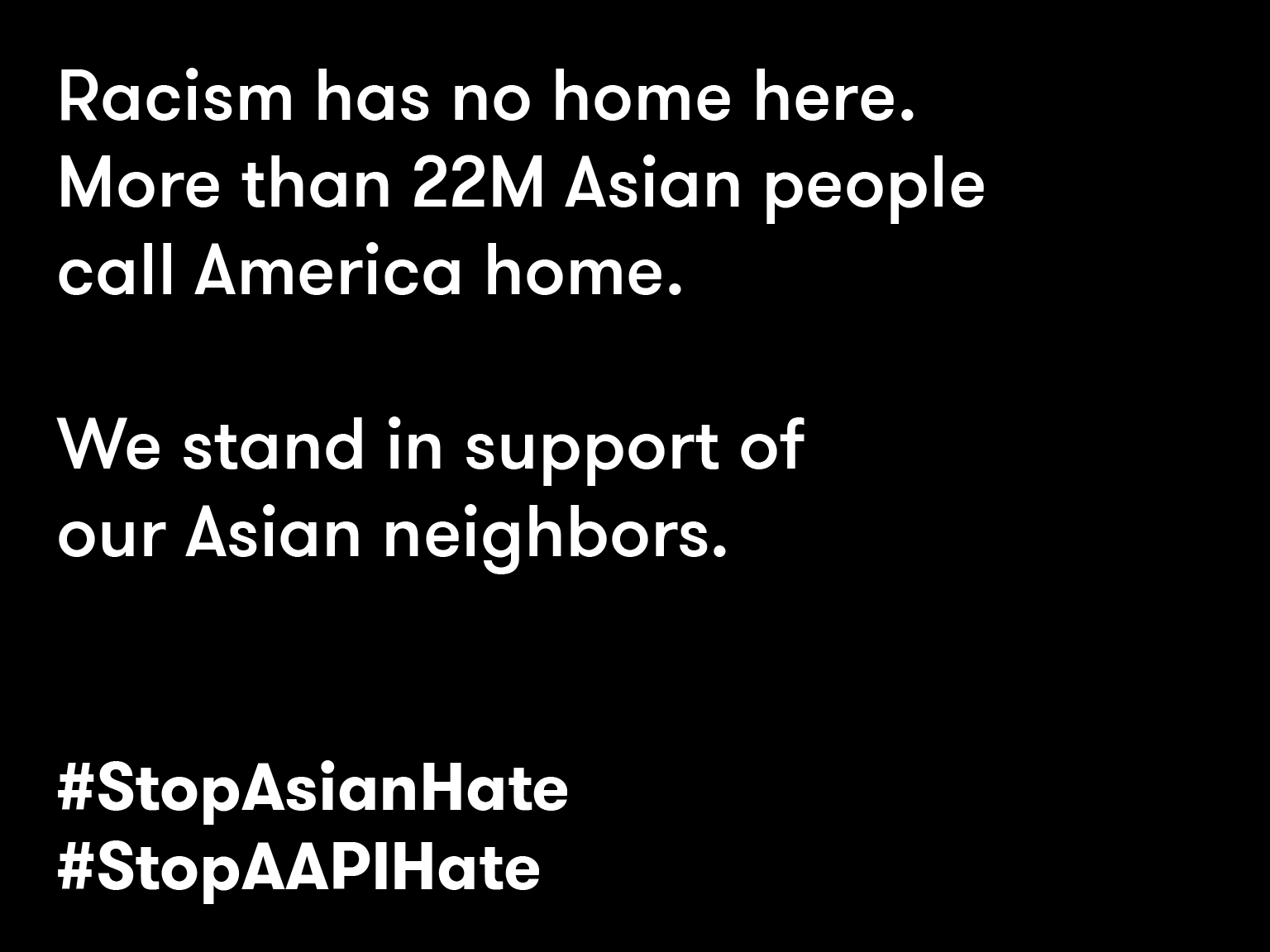 Yesterday, Zillow released a statement of support for the Asian community in our country after a string of violent attacks against older Asian individuals:
We condemn the recent attacks against our Asian community. We are committed to our continued anti-racism work and creating a safe space for our employees and their communities. Racism has no home here.
This message expresses our commitment to creating a workplace — and a world — in which everyone feels not only that they belong, but, more urgently, that they are safe. That these incidents have become more prevalent one year after the AAPI community first encountered COVID-related racism marks a widening of the gulf of pain, fear and anger felt by our brothers and sisters in this community.
We cannot let it go unremarked. We are compelled to speak out — and, more importantly — to act. Because we know that while speaking out is crucial, it's not enough.
Last summer, when our country was swept by wave after wave of protest against the violence endured by our Black community, we knew it was no longer enough to quietly work to support anti-racism from within our community. We realized we must use the considerable power and privilege of our enormous voice as a brand, an American company, and a leader in our industry to speak out clearly against racism.
As our founder and CEO, Rich Barton, put it: "Racism has no home here — but words are not enough. We all must do more. We are committed to doing so."
We spoke out then, as we are now, because we know it is our responsibility to bring change. In an open letter to our community last summer, Rich Barton outlined the ways in which Zillow uses the power of our platform to shine the light on racial and housing injustice, and takes steps to end it through our people, research and advocacy, products, business practices and social investments and partnerships.
Today, fueled by sorrow and outrage, our employee community is also responding via our giving opportunity to the National Asian Pacific Center on Aging (NAPCA), which Zillow will match dollar-for-dollar. Through this effort, Zillow will contribute tens of thousands of dollars to the AAPI community. Other organizations our employees are encouraged to support include Asian Americans Advancing Justice, Stop AAPI Hate, Asian Pacific Fund's Covid-19 Recovery Fund, the Asian American Legal Defense and Education Fund and the Asian Law Caucus. Our AAPI employee affinity network is mobilizing to ensure our own community and their allies feel heard and supported, and empowered to act.
One of the founding principles of Zillow, "include and empower," compels us every day to work to promote equity, justice and fairness.
We know it is not enough. It can never be enough. But we will never stop striving to do more, to do better, to work to hold up all those who are struggling under the terrible weight and pain of racism in our country.
Racism has no home here — and we have work to do.
Crystal Tomczyk is Zillow vice president of equity and belonging
#StopAsianHate #StopAAPIHate
Related: How employees find support and take action within Zillow's affinity networks