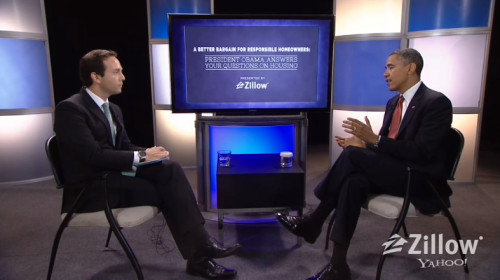 Zillow was honored today to host President Barack Obama during an unprecedented discussion with homeowners, renters and prospective buyers from across the country. The event, Zillow Presents: A Better Bargain for Responsible Homeowners — President Obama Answers Your Questions, was live-streamed earlier today on Zillow.com/WhiteHouse, and you can now see a replay there. Zillow CEO Spencer Rascoff moderated the discussion.
The discussion was wide-ranging. We received thousands of questions from consumers via social media channels, with a few common themes. More than one-quarter (28 percent) asked a question about refinancing; 12 percent asked about Fannie Mae or Freddie Mac, and 10 percent asked a question about the Home Affordable Refinance Program (HARP). President Obama addressed all those issues, saying that reforming the role of the federal government in mortgage financing and ensuring underwater borrowers can refinance at today's historically low mortgage interest rates are priorities.
"The reason [housing is so important] is because this is where most Americans have their wealth," President Obama said. "If you've got trillions of dollars tied up in housing, if we get that right, then it makes a big difference everywhere else."
Currently, more than one in four American homeowners with a mortgage are underwater, with some metro areas, including Las Vegas, Orlando and Detroit, suffering from negative equity rates of 40 percent or higher, according to Zillow data. Underwater homeowners often have tremendous difficulty selling or refinancing their homes, which contributes to inventory shortages in many areas and creates a roadblock to the full recovery of the housing market.
During the event, President Obama fielded several questions from underwater borrowers and stressed the need to expand HARP to all borrowers, regardless who holds their mortgages. To date, the program has only been available to homeowners whose mortgages are held by Fannie Mae and Freddie Mac.
President Obama said allowing more homeowners to refinance and lower their monthly mortgage payments would help boost not only the housing market, but also the economy as a whole, as homeowners would invest their savings into new cars, new technology or other big-ticket purchases. Expanding HARP is an idea that was championed by Mitt Romney, President Obama's Republican challenger in the 2012 presidential election, and is a bipartisan policy that should not get hung up in political debates, the president said.
President Obama also stressed the need to find a bipartisan solution to reforming the government-sponsored enterprises Fannie Mae and Freddie Mac, and to bring private capital back into the mortgage market. For too long, the president said, Fannie and Freddie were allowed to make big profits buying mortgages, knowing that if their bets went bad, taxpayers would be left holding the bag.  It was "heads we win, tails you lose," the president said, and it is time for a change.
Thank you to everyone who submitted a question, and a special thank you to President Obama for taking the time out from his very busy schedule to address these critical questions.