For most people, a home represents the biggest purchase of their lives, so understanding how a home's value changes over time is quite useful information. We've long provided people with the ability to see past changes in a home's value through Zestimate® home value histories. Now, for the first time, you can also see how much a home might be worth in one year with our new Zestimate forecast.
The Zestimate forecast predicts the estimated change in a home's value over the next 12 months in both dollars and percentages. For example, if a home at 123 Main St. has a current Zestimate of $200,000, the Zestimate forecast for that home in one year might be $210,000, which means Zillow is predicting that home's value will increase by 5 percent. It's the first tool of its kind, one that helps homeowners, buyers and sellers better understand how local housing trends can affect the future value of specific properties so they can have more informed discussions with a real estate professional.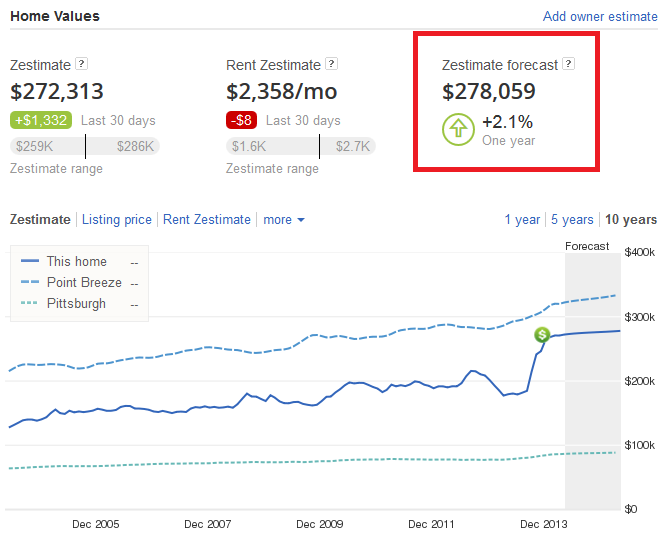 To calculate the Zestimate forecast, we use information on the individual characteristics of each home, including number of bedrooms, bathrooms and square footage. This data is combined with a variety of local economic and housing data that might impact future home values in a region, including the supply of homes for sale, percentage of delinquent loans, population growth, income growth and local unemployment rates.
We calculate home-level Zestimate forecasts monthly, and they are now available on the home details pages for more than 50 million U.S. homes, with plans to eventually expand coverage to all homes for which Zillow has real estate data and Zestimates.
We encourage homeowners to claim their homes on Zillow and keep all home facts up to date in order to ensure the most accurate forecast possible.