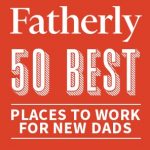 For the third year in a row, we are honored to be named one of Fatherly's 50 Best Workplaces for New Dads! This award is based on Fatherly's evaluations of our policies and programs available to new dads – including those that both directly and indirectly benefit employees entering fatherhood.
At Zillow Group, our benefits reflect what's most important to our employees and their families. Our family benefits program is designed to help mothers, fathers and prospective parents maintain work-life balance and spend plenty of time with their loved ones – and not keep them in the office. We are committed to creating a workplace that is compatible with having a family by offering such benefits as:
Paid Parental Leave: We offer eight paid weeks of leave for non-delivering and foster parents.
Baby Bucks: New parents, including foster and adoptive parents, receive $1,000 'Baby Bucks' to help cover the essentials.
Adoption Expense Assistance: We cover $10,000 of expenses for employees going through the adoption process.
Health Care: Employee premiums are 100% covered for medical, prescription, dental, and vision. Employee dependents get 80% of their premiums covered.
Infertility Care: Infertility Care is covered under Zillow Group's health care plan.
Bereavement leave: Employees are given 20 days of bereavement leave following the loss of a spouse, committed partner, child, parent, sibling, or comparable step relations, as well as the child of a committed partner. And five days following the loss of a grandparent, grandchild, father-in-law, mother-in-law, son-in-law, daughter-in-law, or comparable relation through a committed partner, uncle, aunt, or first cousin
Flexible Spending Account: Employees are able to contribute up to $2,650 for eligible medical expenses and up to $5,000 for eligible dependent care expenses through pre-tax dollars.
Backup Child Care: Employees are given assistance with temporary back-up child care for up to 15 uses per year.
Interested in joining us? Check out our jobs page for current openings.