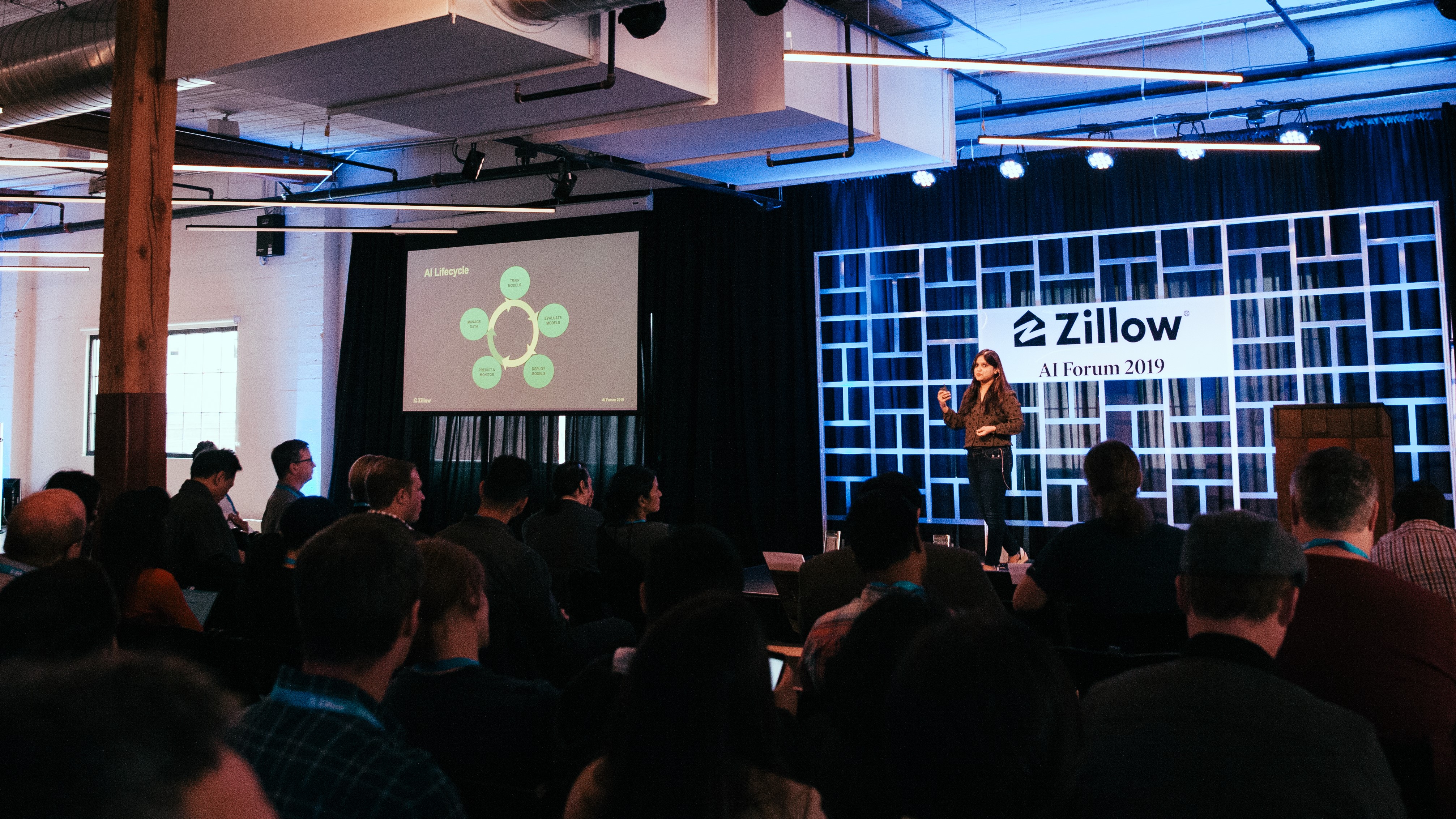 More than a hundred people convened in Seattle's Belltown neighborhood for Zillow's 2019 AI Forum to learn about the latest advances in artificial intelligence and connect with peers and leaders from the region's growing AI workforce. 
The event, now in its second year, attracted machine learning engineers, data scientists, and graduate students for an in-depth look at the technical AI work driving innovation across industries. Topics included Zillow's use of AI to discern subtle differences in home quality by analyzing photos, and how Microsoft is raising the bar for computers' ability to "read" messy, scribbled handwriting and convert it to perfectly printed text in real time.
"This is a fantastic gathering of some of the best minds in AI," said Rich Barton, co-founder and CEO of Zillow Group, from the forum floor. "At the same time, we get to share all of the exciting AI work happening at Zillow. Our AI team is really the heart of the company." 
Working to deliver on Zillow's mission to create a more seamless real estate transaction, Zillow's AI experts are building the platform and tools to power Zillow's home-buying and selling program, Zillow Offers, applying AI to help us do everything from setting our homes' list prices to efficiently routing our renovation teams.
"We are at ground zero of the transformation of one of the biggest sectors of the economy," said Dr. Stan Humphries, Zillow Group's Chief Analytics Officer. "The opportunity to transform an industry is a once-in-a-lifetime opportunity."
A few highlights from the day-long program included:
Zillow machine learning manager Sheena Jain shared the vision for Zillow's AI Platform. Currently under development, the platform will provide a suite of tools to all engineers across Zillow's product teams to improve their efficiency, including minimizing the time spent creating new algorithms and enabling them to focus on fine-tuning and improving their work.

Adam Cheyer, co-founder of Apple's Siri and now Samsung's vice president of engineering, demonstrated the promise of a virtual assistant experience – like Siri or Alexa – that's consistent across all devices, from our smart speakers to our cars, and enabled exclusively by interfaces such as voice and visuals. 

Unity Technologies Vice President of AI and Machine Learning Danny Lange offered examples of how video games – fun but deeply technical systems – can help simulate real-world physics, which in turn can help quickly train AI to perform many real-world tasks. 

David Fagnan, director of applied science at Zillow, laid out the clear value and business case for developing explainable AI. David emphasized that, as deep learning and other black-box systems grow in popularity, so does the need to fully understand and correct for potential bias in algorithmic decisions.
The event underscored the incredible advances in AI in recent years, yet it also reflected Zillow's own philosophy on innovation. As we work to fundamentally re-engineer the experience of buying and selling a home, we believe innovation isn't solely driven by new, big ideas, but also by applying existing expertise and tried-and-true techniques to solve problems in new ways and from new perspectives. What better way to gain new perspectives than bringing together the best and brightest people in AI that our region's growing talent pool has to offer?
For a deeper dive into the 2019 AI Forum, head to the Zillow Tech Hub for a breakdown of all the sessions.