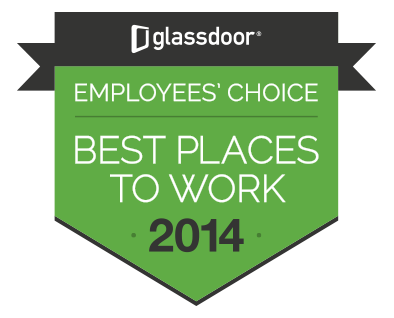 At Zillow we work incredibly hard to maintain an innovative, transparent startup work culture and are honored to be named one of the best medium-sized companies to work for in Glassdoor's 2014 Employees' Choice Awards.
Employees gave Zillow an overall 4.2 out of five stars. In the reviews, employees cited the company's great culture, competitive benefits and upbeat work atmosphere.  They also noted the excellent leadership team who works hard to be transparent and accessible to everyone at all times. Reviewers also highlighted the many opportunities for career advancement within the company. Additional highlights include:
[tweetintent hashtags="#Zillow"]99% of Zillow employees approved of CEO Spencer Rascoff[/tweetintent].
89% of employees who participated in the survey would recommend working at Zillow to a friend.
Zillow employees gave the most favorable rating for culture and values, work/life balance and senior management, while career opportunities and compensation/benefits came in a close second.
We are always looking for inventive and passionate people with strong ideas and ambitions, so check out our jobs page to learn more about how you can be part of our team!