There's a whole new playing field for home shopping on mobile, and Zillow just slid into home base. We are excited to announce the new Zillow Real Estate app for Amazon Fire phone. Just unveiled today, Zillow was one of only a dozen top-tier mobile companies selected to be featured in the launch for the new device – the first phone from Amazon – and our latest app was optimized to take advantage of the phone's unique features and attributes. Teaming up with Amazon for this innovative new device allowed us to create brand new features to help consumers shop for and find a home.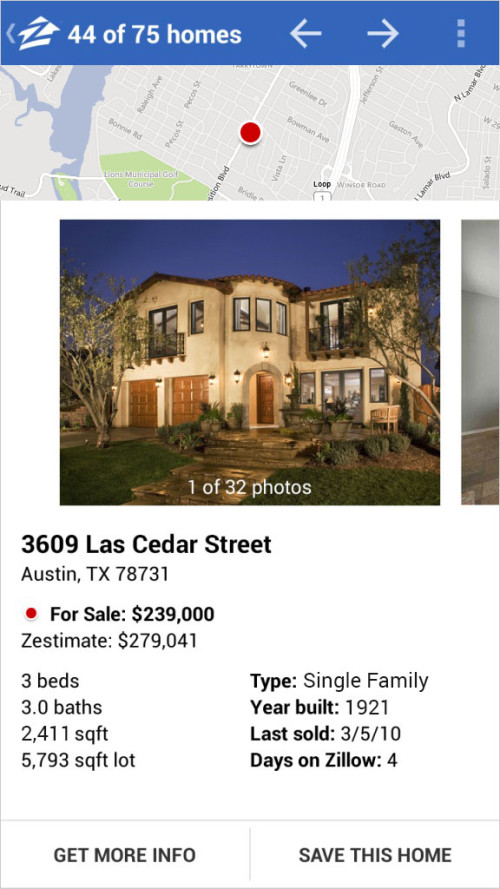 Zillow Real Estate for Fire Phone utilizes the device's large screen and Dynamic Perspective to allow users to navigate through homes, access menus or filter a search using a flick of the wrist — no need for swiping or clicking. Our new app takes full advantage of Amazon's new technology, with specific features to the Amazon Fire Phone, such as:
The Amazon Fire Phone's head-tracking 3D technology allows users looking at a zoomed-in photo to peek into corners and check out the details of a home, allowing for a more immersive photo viewing experience on the smaller screen.
The ability for home shoppers to physically engage with the app through the phone's unique Dynamic Perspective, a custom-designed sensor system that responds to how you hold, view, and move your phone. Detailed maps that include a "Peek" into the number of properties for sale or for rent in a particular region. The app also runs Amazon's new mapping system.
More detailed notifications in real-time through the phone's home carousel. In Carousel mode, you can scroll, scan and take action without leaving the carousel, which includes finding information about nearby open houses and up-to-date details on homes in saved searches.
Beyond the new features and tools specific to the Amazon Fire Phone, the app has a similar functionality to our successful Android app. We are eager to keep expanding our reach to home buyers and renters at every stage and across all major mobile platforms to provide a fun and effective shopping experience. Zillow operates the most popular assortment of real estate applications on the market, and nearly 480 million homes were viewed on Zillow Mobile in May alone, which equates to 179 homes per second.
To learn more about the Amazon Fire Phone, click here.