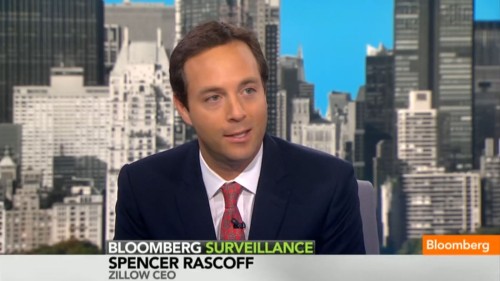 (Click on photo above to see video)
What's the next area of disruption in the property market in the U.S.? Zillow CEO Spencer Rascoff tackled this question and more today on "Bloomberg Surveillance." In a conversation with co-hosts Tom Keene, Sara Eisen and Scarlet Fu, Rascoff started by welcoming StreetEasy.
"StreetEasy is a great company. They are the leading real estate website here in New York City," Rascoff said. "They are the definitive marketplace."
Zillow is acquiring StreetEasy to expand its presence in the Big Apple. According to guest host and branding expert Allen Adamson of Landor Associates, having one place for real estate information is key.
"It's ease of use and confidence in the data. … You don't want to check 10 places. You want to go to one place and be confident that everything you need is right there," Adamson said.
Rascoff agreed. "We're correcting the information asymmetry that has always existed," he said. "We're giving consumers the same information that professionals have always had."
So what's the latest information on the housing market?
"The real estate market is very hot right now," Rascoff said. "We've now seen 20 months in a row of appreciating home values. Zillow forecasts another 3-7 percent appreciation in home values by the end of the year."
Watch the full segment to learn more about Zillow's pulse on the real estate industry.